The 26-year-old Belgian became the first woman outside the top 10 in the world rankings to lift the trophy as well as the first mother to win a Grand Slam title since Evonne Goolagong triumphed at Wimbledon in 1980.
"I don't have words for this," she said on court during the trophy presentation ceremony.
"I'm just glad I got to come back and defend my title from 2005. It's so exciting for me."
The Belgian also said winning was "not really our plan".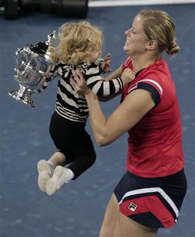 Actually winning some major silverware was her primary goal. To understand why, we have to take ourselves back to a younger Kim pre-retirement.
For a player of her caliber and talent, winning only one Grand Slam in her career seems jarring. Clijsters certainly does not belong to those one-Slam wonders.
Is her return due to four heart wrenching losses Grand Slam final losses? Who can forget the 1-6, 6-4, 12-10 loss to Jennifer Capriati in her maiden Grand Slam final at the 2001 Roland Garros? And not to mention Kim's bizarre breakdowns when she plays her compatriot Justine Henin in big matches.
(Speculation has been growing that Henin could also be tempted back. She has softened her stance about a return from a firm 'no' and will play an exhibition tournament in December.)
For years, she was the nearly girl of tennis, especially at Grand Slam events. Something along the lines of how heavily Safina was criticised these days would be correct.
In spite of her injuries, all these add up to make Kim's retirement in 2007 extremely pre-mature.
"I just wanted to start these three tournaments to get back into the rhythm of playing tennis and get used to the surroundings again," said Clijsters, who missed the 2006 US Open with a wrist injury.
"So I have to thank the United States Tennis Association for giving me the wildcard to come back here."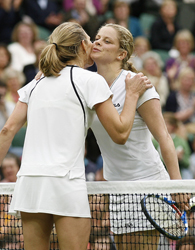 It all started here; Clijsters with Steffi Graf at an exhibition match at Wimbledon this year.
Other than the USTA, Kim also needs to thank the All England Club offices for inviting her to play in an exhibition match at this year's Centre Court Celebration for the new roof. It ignited her competitive tennis spirit.
In less than a year (119 days to be exact), since the Belgian started juggling with Jada and tennis, her comeback has been nothing short of spectacular. Clijsters beat five of the top 18 players in the world to become the first unseeded player to win the US Open, one of the sport's greatest prizes. The final match against No. 9 seed Caroline Wozniacki 7-5, 6-3 on Sunday night unveiled newfound maturity as she found ways to win despite not being at her best levels. Believe me, this is as good as it can get.
"I think that's how, yeah, how it all started and how I got that competitiveness back, I think, to just not just want to go play exhibitions here and there and just to do this serious tournaments and just to see if I can, you know, just really challenge myself, I think, was the biggest thing." she said in her victory press conference.
Kim Clijsters has scored many firsts in her career, including the dubious honour of being the first woman to be ranked number one without winning a Grand Slam title first back in 2003. Will this US Open victory inspire mama Kim to play more tournaments and make a speedy return to being world number one?
Not in the near future for sure, as the Clijsters has indicated she has no plans to play the October leg of tournaments in Asia. Are we seeing yet another Slam specialist?
Even it is just for eight weeks of the year during the four majors, mama Kim's successful return to the victor circle has certainly added much depth and drama to the woman's tour.