Seven tournaments have passed since Maria Sharapova has returned from arthroscopic surgery in October 2008 on her right shoulder and she has yet to get herself back into the winner's circle. Is it too early for any concern that the former world number one will never return to her best?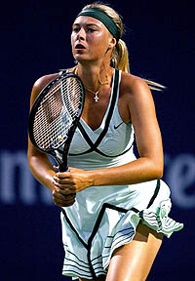 Rewind to early 2008, Sharapova was playing the best tennis of her life, as she stormed through the draw to win the Australia Open 2008 without dropping a set. Many were expecting her to replace then-world number one Justine Henin as the long term dominant force in the woman's tour.
It was believed that she hurt herself during her semi-final match against Svetlana Kuznetsova at Indian Wells, in March 2008. Surgery was the only option for her to ever compete again.
Sure, since coming back to the tour, Sharapova looks every bit as glamorous and healthy before the surgery drama. She plays with the same level of tenacity and of course, her trademark shrieking is most certainly still audible, but the biggest weapon in her game, her deadly serve has now become a thing of the past.
Her post surgery service is an abbreviated motion—a style made popular by Andy Roddick and Justin Henin. Under proper execution, it could be a deadly effective serve like Roddick or it help minimize the stress on the shoulder as in Henin's case. The goal of Maria's new motion is to limit her shoulder movement before she goes after the ball.
Robert Lansdorp, the esteemed coach who helped to develop Sharapova's killer strokes was critical of her new service motion, "It's atrocious, plain atrocious," Lansdorp said. "Instead of keeping it simple, they make it so complicated for her. She bends down way too much. Her elbow drops. She falls down with her face to the left. It's so atrocious. I used to tell her, throw a football. If she threw a football with that motion, it would hit her right smack in the face. She's going to get injured more because she is using way too much body. She doesn't really rotate [her shoulders] that much, she just bends a lot."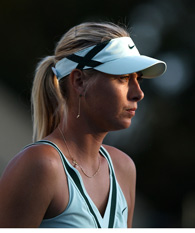 Last week, at Rogers Cup in Toronto, Canada, one of the two major US-open lead-up tournaments, Sharapova fought her way into her first final since her return. Only to lose narrowly to fellow Russian, Elena Dementieva by 4-6 3-6 in a hard-fought two-hour tussle.
Sharapova was not only fighting fatigue from playing her sixth match in as many days, her serve has completely deserted her as she notched up nine double faults in the first set alone! In two earlier matches she served 12 and 17 double faults.
"It's coming back from something that's a pretty serious injury with the shoulder," Sharapova said. "My serve is one of my biggest weapons and coming off the injury, tweaking your motion a little bit, it takes a lot of time for adjustments"
"You do something for your whole career; since you were young and you're use to doing it a certain way then all of sudden you have to change it at a very elite level. It takes time."
"With every tournament I feel like I'm progressing. I'm understanding what feels better, what I can do better."
Without her first rate service, Maria Sharapova is still capable of a spot among the top 10, but she needs to find comfort with her new serve soon if she wish to be back right at the top.
So to expect her to go deep into next week's US Open, the last Grand Slam event of the year seems wishful thinking. She is certainly competitive, but it won't take her past either Williamses or even the top Russian ladies.