Early April, I was busy hitting the gym in a bid to work off my post Chinese New Year flab (I procrastinate, so shoot me) in time for Squirt a.k.a. the all day pool party event that could possibly translate into my wettest gay porn fantasy come true. While I was baking myself to a golden brown by the pool after gym, visualising how I can accessorise my teal tanga trunks, I received that fateful call from my Squirt partner.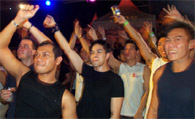 The voice on the other side of the line blurted, "the party's been postponed indefinitely!" To say that those are words that I'm least fond of hearing will be a grave understatement. My world has ended. My entire sex life flashed before my eyes (ok, that didn't take long) and I felt all blood had been drained from my body. If it weren't for my Banana Boat tan, the lifeguard would have sworn he sighted Casper sun tanning by the pool for many years to come.
After my initial shock transcended to anger, I raced home, aching muscles and burnt skin notwithstanding, and hurriedly logged on to read the tragic news myself. My worst fears were confirmed. My past week of extensive psychotic training and tanning regime was all for nothing; all thanks to that pesky little bug we call Severe Acute Respiratory Syndrome, otherwise known affectionately as SARS.
I for one firmly believe that the word "SARS" has got to be the ugliest English word coined to date. It looks ugly, it sounds ugly and it even makes you look ugly if you pronounce it carefully. It is almost impossible enunciate the word without contorting your face into something that resembles a snarl.
Other than tainting the English lexicon, SARS has since made its presence felt in almost every aspect of our lives. From an obscure flu-like virus it rose to global epidemic proportions faster than anyone can say "Louis Vuitton facemask". Surgical facemasks were snapped up (though strangely, no one seems to be wearing them), Chinese herbal remedies and health supplements reported record sales, local schools were closed for more than two weeks, innocent folks were quarantined and visitors to our fair island dipped nearly 70% last month. The ramifications on our nation's economy are unthinkable.
But most and worst of all, at a personal level, every single member of my clubbing posse had decided to stay home for the weekend. No pub crawling, club prowling, not even shopping lest the big bad bug comes and eats you up, throat first. This is what you get when you befriend a bunch of neurotic paranoid drama queens. I might as well be quarantined myself. That very weekend, I watched weekend late night TV alone and discovered a whole new level of extreme ennui.
As the days wore on, I was on the verge of pronouncing the death of my social life when my phone rang. To my delight, it was my party posse informing me that we were all going down to the clubs that night and they wouldn't take no for an answer. Not wishing to question my good fortune, I agreed albeit a tad too willingly.
I had my reservations, of course. Will there be anyone in the clubs? Will we forgo the friendly pecks on the cheeks when we meet and opt for the queen's wave instead? And most importantly, will my sequined oriental facemask finally make its debut?
---
When we got there, I was surprised to find that it was as if SARS didn't happen at all. It was packed. Hugs and kisses were exchanged gratuitously and there wasn't a single facemask in sight. By then, I could already feel my mirror ball of a facemask mocking me in my pocket. Perplexed by this almost surreal sight, I mentally made a note to investigate this the next day because there was serious partying to be done and I had to make up for lost time.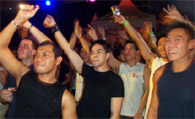 The following day, the posse met up for our usual Sunday brunch and inevitably, the ugly virus crept into our conversation. After bitching about false alarms in our respective workplaces and taxi drivers who cannot stop complaining about the dreadful bug, I asked why they are no longer worried of catching the virus like before.
"That's because the virus is pretty well contained in Singapore," quipped Danny. "There are times when a paternalistic government comes in handy and I would say so far they are doing a pretty good job."
"And even though it can be a deadly virus, it's not like AIDS. People are getting cured all the time." Indeed, to date more than 73% of local SARS cases have been cured and discharged from hospitals.
"Have a little faith in Singaporeans, especially gay ones," added Brian. "We're better informed and more socially responsible than most people would like to think. Besides, who in their right mind would go anywhere with a high fever?" While the rest nodded in agreement, I doubted if this is the same bunch of drama mamas who insisted on staying home not so long ago.
It seems like members of the local gay community are continuing living their lives despite having the killer virus in our midst. To confirm this, I contacted Louie Chang, the manager of Why Not, a local gay joint. According to him, the effects of SARS on business are virtually negligible. "Initially, the daily takings did dip about 5-10%," he said, "but now it's business as usual."
"In the beginning, we were a little worried that the crowds might not turn up, but I guess with the media actively educating the public on the virus, precautionary measures and social responsibility, people just learnt to live with it."
In addition, it is heartening to know that Why Not makes sure that all their staff takes their temperature before they turn up for work. And they trust that their customers will have the cow sense to stay at home should they be unwell. A quick check with other local gay establishments yielded similar response.
At the end of my little inquiry, I am happy to report that with mutual trust and responsibility, our local gay community is braving this crisis pretty well. And the sooner the rest of the world can catch up with us, the sooner we can all live and breathe sans facemasks as before.
Now my only worry is how on earth am I going to accessorise my teal tanga trunks?
Editor's note:
Watch out for an upcoming article from In The Pink on how to minimise one's risk of contracting SARS while partying and cruising and whether saunas and health clubs are safe.