Hong Kong June 2nd 2016. Fridae.asia, Asia's leading LGBT online media in English, today announced the launch of its next-generation iOS dating-App, to sit alongside its recently revamped Android App – "Fridae.asia, again leading the way to serve Asia's LGBT Community and their friends globally with connectivity and community news and editorial".

The iPhone App is being officially rolled out globally, starting in Singapore and Hong Kong, with the PRC and other key locations to follow in short order, including cutting-edge functionality and connectivity.

John Edwards, MD of DragonStack, the provider of Fridae's technology infrastructure said 'We are genuinely thrilled and proud to finally be able to provide Fridae's membership with an up-to-date Mobile App offering, now available to all iPhone and Android users, including in Mainland China, further stressing our mission to maintain Fridae as the key brand and resource for Gay Asia. Fridae has a uniquely loyal membership and we wish to reward this long-standing loyalty with our commitment to maintain the Asian identity of the brand and now keep its technology ahead of less Asia-specific globalised dating App brands like Grindr and Manhunt, as well as currently more localised brands like the PRC-dominant brands Blued and Zank.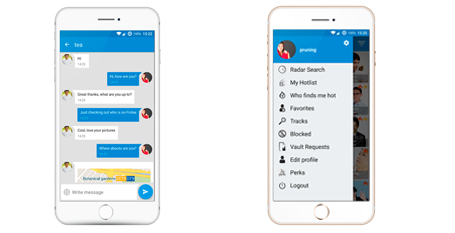 Alex Cheung Pak Yeung (柏洋), Fridae's Brand manager, said 'a key part of our development efforts and process has been to consult Fridae's valued Perks members with the opportunity to preview and provide user feedback on our new iOS App prior to its official launch, with a number of such user-driven enhancements being included. With these two Fridae Apps, we believe to cover more than 90% of the smartphone market globally, including in the PRC where data suggests a 68% Android and 24% iOS smartphone market segmentation. In addition, we are very pleased to have been in a position to launch our iOS App in advance of this month's Shanghai Pride Event and we will be offering Fridae Geo Perks to all the Event's attendees to celebrate Shanghai's LGBT Community'.

The LGBT market is a significant and rapidly growing market. Current estimates by specialist LGBT Investment firm, LGBT Capital, have estimated that the LGBT population in Asia numbers around 270 million and represents some US$1.1 trillion in spending power per annum. Globally, the LGBT population is estimated to be around 450 million, with a spending power around US$3.7 trillion and an estimated total household wealth of US$15 trillion. These are significant numbers in almost any context and this Community should be treated with the respect and recognition it deserves.


Key Features of Fridae.asia's upgraded Mobile App offering include:


Now available to all iPhone and Android users, including in Mainland China;
Displays 100 members close to user's geo-location (200 if user has paid membership);
Filter listing and see each member's details and distance;
Send a Heart to 'break the ice';
Talk to existing contacts or new friends via the integrated chat;
A picture 'says a thousand words' - show everyone what they could be missing via personal picture gallery;
iOS Launch Celebration: Fridae.asia will be offering a free Perks week to all iPhone users and Geo Perks to all attendees at this month's Shanghai Pride and many more events over LGBT Pride Month 2016.