Given Hong Kong's position as a major international financial centre and the banking industry's push for LGBT workplace diversity, the upcoming 5th Hong Kong Pride Parade now counts five banks as sponsors.
JP Morgan and Citibank this year join Barclays, Goldman Sachs and Nomura who signed on as cash sponsors last year. The sponsorship amounts have not been disclosed. Organisers say the budget for the day's events is estimated to be over HK$200,000 (US$25,800).
The five banks are among some two dozen other brands or companies including Lifestyle Insurance, Okamoto condoms and party organiser HX Productions who have been listed as sponsors of the pride parade.
The march on November 9 will start at Victoria Park in Causeway Bay and end at Tamar Park in Admiralty. Marchers and participants are asked to dress in red in loud solidarity with the parade's theme, "We stand for love, we stand for LGBT."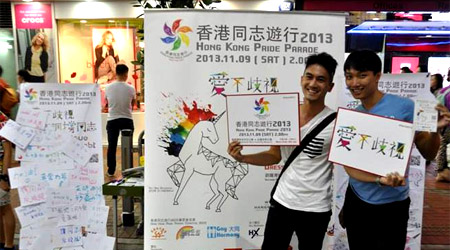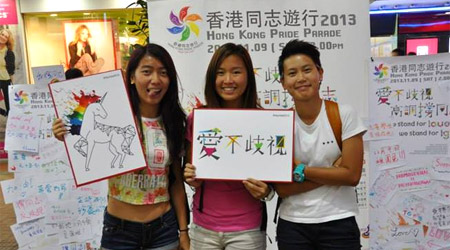 At a kickoff event at Causeway Bay on Oct 2, 2013
Parade organiser Connie Chan who is also the chairperson and founder of LGBT advocacy group, Women's Coalition, told Fridae that workplace discrimination is fairly prevalent in Hong Kong and the banks' sponsorship of and visibility at the pride parade signals a commitment to promote LGBT acceptance both in the workplace and in society.
Hong Kong's Interbank LGBT Exchange, an interbank networking group, has been marching under their own banner since the Hong Kong's first pride parade in 2008.
Last week, senior executives of 19 global financial services firms gathered at Out on the Street Asia, the region's first LGBT workplace summit, to share best practices about LGBT inclusion.
Paul Choi, Executive Director of Goldman Sachs's Human Capital Management division and Co-Head of Asia ex-Japan LGBT network, said in statement: "The Hong Kong Pride Parade creates an opportunity for LGBT and LGBT-friendly people to come together and raise awareness of LGBT inclusiveness in Hong Kong. As a company, we have been participating in the parade since 2008, and we are glad to see more people taking part as Hong Kong becomes more inclusive."
Justin Lowes, Regional Head of Service Management at Citibank Hong Kong, said supporting the Hong Kong Pride Parade complements the bank's effort to education, and promote awareness and understanding of LGBT concerns.
"Citi is proud to sponsor HK Pride. We believe in fostering a diverse and inclusive environment for all employees within Citi and this philosophy extends to the families of our employees, our community, customers, and our future employees. We view HK Pride as a public demonstration of this commitment and most importantly, an opportunity for us to vocally support the LGBT and LGBT ally community in Hong Kong," he said in a statement provided to Fridae.
The Rainbow Ambassadors for this year's parade are gay pop star Anthony Wong and former Legislative Councillor Tanya Chan.
Hong Kong Pride Parade 2013
Date/time: Nov 9, 2013 / 2pm
Meeting point: Victoria Park, Causeway Bay, Hong Kong Island
Parade Route: Victoria Park (Causeway Bay) > Hennessy Road (Westbound) > Tamar Park (Admiralty)