A gay couple in Singapore, who had unsuccessfully petitioned the High Court to have the country's anti-gay sex law declared unconstitutional, will be appealing Justice Quentin Loh's April 10 ruling.
In a statement issued today, lawyers for Gary Lim and Kenneth Chee will file a Notice of Appeal within the next three weeks. The couple is represented by lead counsel Peter Low, Choo Zheng Xi and Indulekshmi Rajeswari.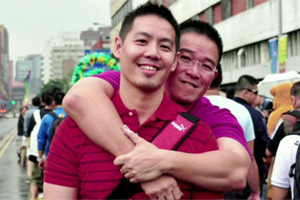 Gary Lim, 44, and Kenneth Chee, 37,
have been partners for 15 years.
"We believe that gay men should not have to go to jail for being who they are, and this is why we are appealing the decision," said the couple, who have been together for 15 years. "Singapore is one of the few Asian countries that criminalises LGBT people and the existence of S 377A has a dampening effect on society. For example LGBT businesses and societies face unfair and often insurmountable bureaucratic hurdles in getting registered."
Low, of M/s Peter Low LLC, lead counsel for the case said: "The Judgment of the High Court upholds an archaic piece of colonial legislation which was enacted and retained with the dominant purpose of criminalising the sexual behaviour of consenting gay and bisexual adults, and continues to make criminals out of gay and bisexual men in loving relationships, even in the privacy of their own homes. In so doing, the High Court is essentially saying that such targeted discrimination is perfectly acceptable, despite the Equal Protection Clause enshrined in the Constitution. With the greatest of respect, this cannot be correct in law or logic. We have our client's instructions to appeal."
Fundraising appeal to raise US$50,000
Friends and supporters have started a fundraising campaign to help meet court fees and procedural fees that the couple will need to pay as the case navigates the judicial system. The group hopes to raise US$50,000 in 60 days. As of press time, over US$8,000 has been raised from 40 contributors within the first few hours from the launch of the campaign on Indiegogo.
One of the supporters of the fundraising drive is Rev Yap Kim Hao, former bishop of the Methodist Church in Singapore and Malaysia, who has been a long time advocate for gay men and lesbians in Singapore.
"The official teaching of the Methodist Church in Singapore did not declare homosexuality a sin until 2002, and the interpretation of the bible is always personally directed, time bound, historically determined and culturally conditioned. The sacred texts have been used to justify the teaching of the Church on political domination, racial discrimination, slavery and warfare, and we have seen this in recent christian condemnation of LGBT people."
Yap added: "In light of Kenneth and Gary's decision to appeal, I hope that moving forward, the Christian community will focus on love, compassion, understanding and harmony instead of hate, condemnation, contradictions and conflicts as we strive to live in unity in spite of our diversity."
To pledge your support, please go to igg.me/at/s377a.