One of the things that immediately struck me when I first watched Ellie Goulding's new video for "Figure 8" is how the singer has completely transformed herself over the last couple of years - evolving from a British chart darling into a bonafide global superstar. Perfectly combining style with substance, the visually-stunning video for "Figure 8" is one for the big time that shows a confident singer and fashionista who looks nothing like the sweet debutante we saw in the video for "Starry Eyed."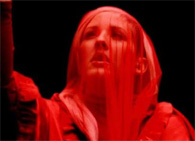 "Figure 8" is one of the most emotional and sonically provocative songs on Goulding's "Halcyon" LP. Capturing a period of profound change and transition in Goulding's life, the album captures a feeling of loneliness, and describes a journey of heartache and towards hope that drives each and every song on the record.
"Figure 8" tells part of that bigger story on Halcyon." The song seems to be ripped straight from Goulding's personal experiences when she sings, "I chased your love around a figure 8. I need you more than I can take. You promise forever and a day, and then you take it all away." Lyrically, she doesn't step away from the painful experience without painting a silver lining and giving listeners an important piece of advice, "Lovers hold on to everything and lovers hold on to anything."
The gritty, slighty dark and perfectly-styled video for "Figure 8" intensifies the raw emotion that drives the song. The video pictures Goulding twisting and turning in bed trying to make sense of a nightmare situation. Those scenes are interspersed with footage of Goulding dressed in a flaming red, flowing gown and veil that likely is a metaphor for the bad dream that continues to haunt her. It's a brutally honest and brave visualization of a song that is very personal to Goulding but is delivered in a way that will resonate with many, many others. (Click here to download Ellie Goulding "Figure 8" on iTunes.)