Let me just throw this out there for the readers of ArjanwWites.com: my favorite pastime is driving and jamming. There's a certain buzz you get from cranking up your favorite tunes and flying down the highway. Living in London now, I don't get the benefit of that feeling anymore. That being said, Los Angeles based trio DWNTWN - comprised of Jamie Leffler, Robet Cepeda, and Jerrod Bettis - recently released their fresh EP "The Red Room" and all I can think of when I hear the opulent soundscapes of electro-pop cascading through this release is how perfect it would be for a Sunday night sunset drive down Highway 1.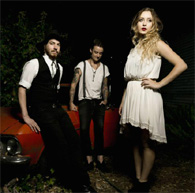 "The Red Room"opens with "See My Eyes," a perfect opening salvo for the group. The poppy, upper register synthesized riff is atmospheric and warm, inviting the listener into a sea of electro-pop sound. After a verse of extensive vocal manipulation that would make Ellie Goulding or Dev proud, DWNTWN drop a chorus full of steamy '80s synthesizers on us. Your mind's eye probably won't be too far from the beaches of Santa Monica at this point.
Another highlight for me on this 4 song EP is the downtempo "Stood Me Up." The track's melancholy synth opening and groovy, Juno-106 bass line instantly calls to mind the ethos of Drive, the Ryan Gosling vehicle with the French House inspired-soundtrack. As Jamie Leffler sings like a whisper through verse, plucked guitars with stadium-rock delays permeate through the mix.
The simplicity of the arrangement really comes through in the chorus though, where a rush of escalating saw-tooth synth waves and sidechained rolling bass create a rolling groove that would be impossible not to nod your head to.
Rounded out by two up-tempo tracks, "Look the Other Way" and "Transition," "The Red Room" is a fine debut effort from the self-described "dreamy synth pop" group. In today's over-crowded nu-disco and electro-pop marketplace, DWNTWN are certainly impressive and their composition, production and instrumental talents are evident throughout the work. Download DWNTWN "The Red Room" on iTunes now. (Review written by London-based guest blogger Steve Siegel. Siegel is a massive dance music fan and a budding DJ/producer. You reach Steve and listen to his own productions on SoundCloud.)