HBO True Blood actress Janina Gavankar has a mutual love for acting and singing. In fact, in a recent interview with me, Gavankar (who plays shape-shifter Luna Garza on True Blood), explained that making music helps to fuel her creative spirit and makes her a better actor. "If I take a day and I do a four hour piano practice, the next day I show up on set and I'm immediately better," she said. "It is all emotional muscle work."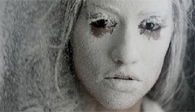 Janina Gavankar
She also told me, "Music and acting satisfy the same artistic spirit. One informs the other. There are many similarities to creating a song and creating a character, but the performance aspect is very different. In acting you hardly have any control. The only thing you do is show up and play your role. Music is my chance to be a control freak."
While filming True Blood, Gavankar has worked on a brand-new EP of songs including her new single "Waiting For Godot" that is available digitally on iTunes now. Named after Samuel Beckett's legendary play, the song is a striking electro-pop tune that combines experimental production stylings with Ganvankar's mesmerizing vocals that will instantly appeal to fans of artists like Imogen Heap and Ellie Goulding.
Gavankar (who is from Dutch and Indian descent) just premiered the eccentric music video for "Waiting For Godot" that was directed by Caitlin Pashalek. The video tells the story of two entities dealing individually and together in search for an unrequited "something." Both symbolize two sides and extremes to every one person and how that effects oneself coping with the unknown. Gavankar plays the role of someone seemingly perfect and pure, and someone raw and disturbed. After deciding to take action in their search, the video for "Waiting For Godot" mashes footage of the two entities part ways and walk off into the "unknown," much like the same-titled play by Samuel Becket.
Gavankar and company visually create the video's characters against a blank, vast plane, full of ambiguous textures where they are forced to fend for themselves. One is seemingly invigorated by the search, while the other is increasingly frightened. This storyline in conjunction with double exposures and overlays create for an intriguing piece of art that asks the viewer, "what do you see?" (Click here to download Janina Gavankar "Waiting For Godot" on iTunes.)