Consider places like Chongqing, Ningbo and Dalian, minor outposts just a decade ago – today they defy cartographers with skylines that can transform in an instant.
Clearly China is the place to be if you have aspirations in architecture. The arrival of titans like SOM and Gensler is old news these days, and even boutique firms are stepping over one another to set up shop in cities like Shanghai, Beijing, even second-tier outposts like Hangzhou.
Yet this is no mere Western invasion. Many of China's most exciting contemporary structures come from its new class of home-grown architects, taught internationally or at nascent design departments across the country. The American-led supertowers – and there are dozens of them – tend to monopolise the attention, but China's new creatives are starting small, building desperately needed schools, libraries and community centres.
What they all have in common is a passion for sustainable practices and a drive to somehow foil the country's current appetite for vast, wasteful projects by big developers. To be sure, the developers are eating up a lot of land, but the grass will be greener on the other side.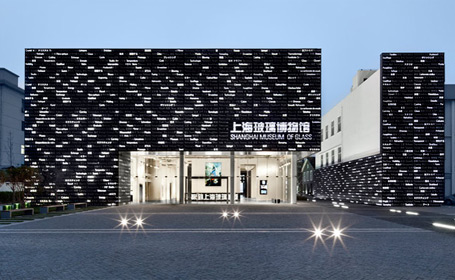 Shanghai Museum of Glass, by Logon Architects/Coordination Asia
German practice Logon has been feted across the country for its design of the Shanghai Museum of Glass, launched last spring. The museum's unsung location, in an obscure northern reach of the city, and silly acronym (SHMOG) are mitigated by the lofty transformation of this former glass-making workshop, and the dazzling exhibition spaces planned by Tilman Thuermer of Coordination Asia. The 3,500sq m showcase displays delicate decorative works spanning a millennium, with emphasis on contemporary showstoppers and even futuristic applications for space travel. Over the coming months Logon will introduce a veritable village of workshops, in a tangle of defunct buildings behind the site.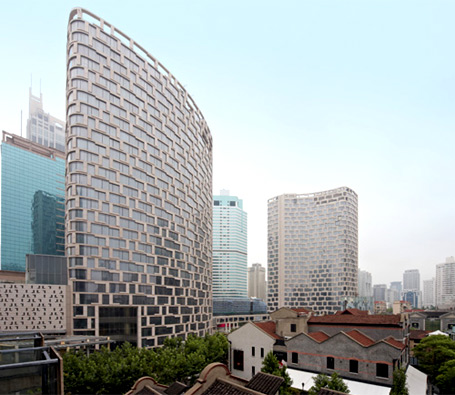 Andaz Shanghai, by Kohn Pedersen Fox
After a decade of sometimes ill-thought-out development across Shanghai, these low-rises in the smart Xintiandi district are doing right by the city. The shapely stone-clad structures, designed by multi-national practice Kohn Pedersen Fox (with offices in Shanghai and Hong Kong), provide a fantastical backdrop to the historic village that lies beyond, offering a new experience from every angle. The first to open, in early 2011, houses the luxury Langham hotel. Asia's first Andaz launched in the second building at the end of the year
Photograph: H.G. Esch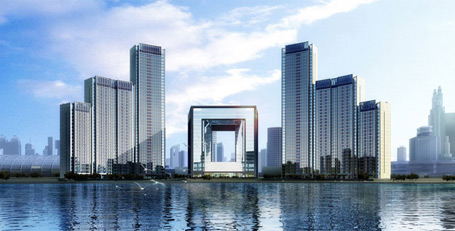 St Regis Tianjin, by SOM
An homage to Rem Koolhas's CCTV Tower in Beijing? Doubtful, but the luxury Hai River-front hotel -- only 30 minutes by high-speed train from Beijing -- is no less striking. US practice SOM interprets the city's status as China's fifth largest -- and the 'gateway to the north' - with a hollowed cube in steel and glass, a few steps away from the high-speed rail station the practice plans to launch next year