More photos at Wallpaper.com.Composed of three interlocking concrete tubes, Shigeru Fuse's latest private housing project could easily be mistaken for an art gallery. No matter though, as the residents - a young couple in their thirties - are totally fine with a house often perceived as the neighbourhood's misfit. Their original request from the architect was indeed for a concrete, gallery-like space where they could showcase their favourite collection of design furniture.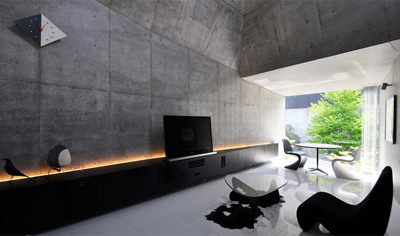 To the architect however, the building's characteristic form was primarily the outcome of practical considerations. 'The house is located between two valleys and on soft ground, so deep foundations were a necessity', Fuse explains. 'To reduce the footprint, the upper structure soon turned into a cantilevered one'. Fuse then moulded the slanted walls with the roof slab into one smooth and continuous concrete structure.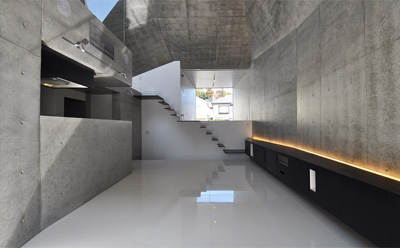 The dining room, bathroom and a special studio space (where the owner's wife cuts her friends' hair) are extruded from the 6m-high central living space. Within the multifaceted interior, it is the use of light instead of conventional walls that divides the central void. A flight of black, minimal steps guides the visitor through the house; an experience that changes according to the light intensity outside. 'The reflection and refraction of natural light onto the slanted surfaces produce a sequence of places which make the interior feel divided, but at the same time connected', Fuse explains.
The article is republished with permission from Wallpaper.com.