You hear a lot of superlatives about Chinese cities - Shanghai has 17 per cent of the world's cranes; Chongqing is the world's fastest-growing city - the list goes on.
The truth is, as an architect there's no better place to be right now than China. Thanks to the Beijing Olympics, Shanghai Expo, Guangzhou's Asian Games and a thousand regional milestones, China is experiencing a new Cultural Revolution, with countless new museums, galleries, theatres and schools in the works.
And it's using those cranes: last year China built 21 tall buildings (more than 200m), the most of any country. Three of those were the world's tallest.
Guangzhou South Railway Station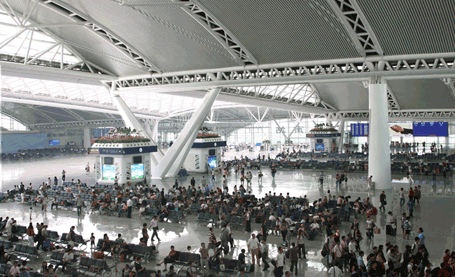 Formerly known as Canton, Guangzhou cashed in on its proximity to Hong Kong, taking over as the country's top manufacturer once its neighbour got too expensive. When China's third-largest city (its population hovers around 10 million) scored the 2010 Asian Games, it began playing architectural catch-up. Last year it saw nearly as many big launches as rival Shanghai. South Station, part of China's new high-speed rail network, is roughly three times the size of King's Cross, designed for a daily turnover of 300,000 passengers. Farrells took inspiration from traditional Guangdong architecture (though executed with 80,000 tonnes of steel), designing the roof to mimic a trellis of banana leaves.
Courtesy: Jo Farrell and John Campbell, TFP Farrells
Shanghai International Cruise Terminal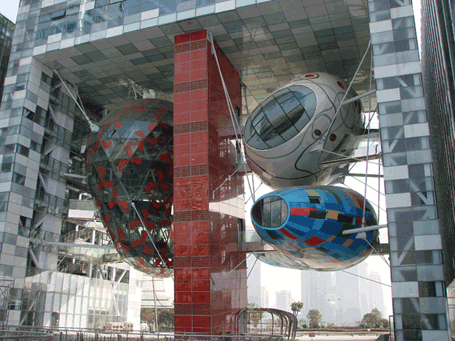 Sitting a cruise terminal here was always going to be controversial: the Yangpu Bridge, standing between this section of Shanghai's Bund and the open sea, is too low for a third of all modern cruise ships to pass. But Sinochem, the company in charge, compounded matters by hiring Sparch, a spin-off of London's Alsop, to design an OTT 'chorus line' in coloured glass, with a trio of floating pods at its centre. Local politicos hope the complex - surrounded by green space and an open-air amphitheatre - will kick of a revitalisation of the North Bund, once a refuge for Jews, Japanese and other marginalised populations.
Courtesy: SPARCH
Peking University Faculty of Law, Beijing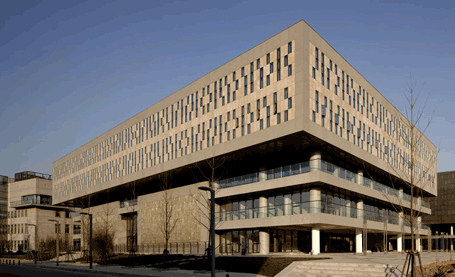 Designing for China's most prestigious school came with its baggage - foremost among them strict regulations protecting the historical site. Kokaistudios prevailed with a reinterpretation of one of the school's famous landmarks: the historical Boya Pagoda. The top-heavy concrete structure is vaguely reminiscent of a pagoda roof, its geometric arrangement of windows echoing calligraphy strokes. Elsewhere walls of windows, clever skylights, voids and open staircases contribute to thermal efficiency - while hoping to inspire critical thought.
Courtesy: Charlie Xia
http://www.kokaistudios.com
Miele House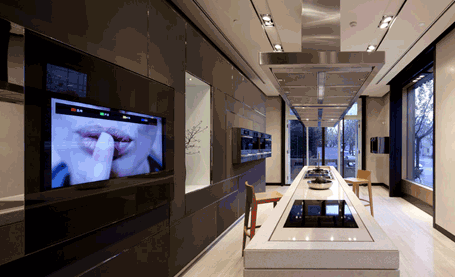 Kokaistudios distinguished itself in the run-up to Shanghai's Expo retrofitting some of the city's most spectacular heritage buildings. Taking notice, Miele commissioned the practice - founded by Italians Filippo Gabbiani and Andrea Destefanis - to convert this 1930s villa into a state-of-the-art showroom. In fact, the space is less showroom than fantasy home, each room facing on a nerve centre that conceals the Miele technology.
Courtesy: Charlie Xia
St Regis Lhasa Resort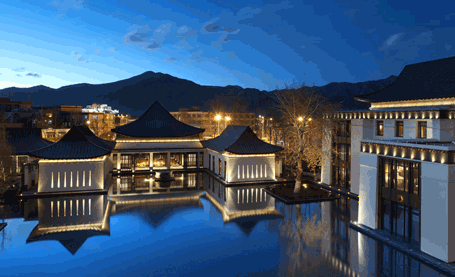 It's barely three storeys, but St Regis's Lhasa resort is also its tallest: reception is at 12,000 feet above sea level. Denniston, the go-to architects for Asia's swishiest hoteliers (Aman and One&Only are repeat customers), designed a complex that brings to mind the important 15th-century Sera Monastery, a neighbour in this ancient Barkhor area. They sourced the shale tile of the pagoda-style roofs and the sloping pale-grey stone facing locally, and landscaped with native poplars and willows. Rooms are, naturally, better equipped than the average yurt - though you can lounge on a yak skin whilst skyping your mates back home.
Courtesy: St Regis Lhasa Resort
Guangdong Museum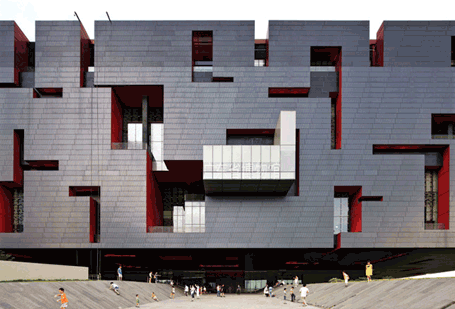 Pearl River New Town is Guangzhou's mini-Manhattan, a new financial hub from which the city's most exciting architecture is rising. The Guangdong Museum, on the river's north bank, is its jewel box, designed by Rocco in Chinese style to house a collection of artefacts from the area. The "lacquered" skin with just a hint of red "silk" lining is the first nod to the treasure-box motif. Inside, several "boxes within the box" with different levels of transparency float above the lobby, each punctured by escalators, walkways or viewing platforms. Outside the undulating gardens, like a silk tablecloth, soften the boundaries between the grounds and the swelling city beyond.
Courtesy: Almond Chu
YJP Administrative Center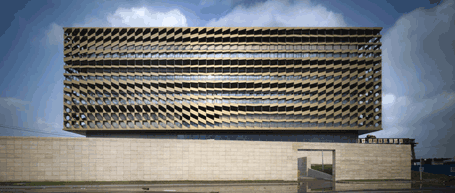 Such a monumental infrastructure project is the new Binhai business district in Tianjin, a manufacturing centre southwest of Beijing, that this impressive viewing platform was designed to temporarily oversee it. Quite literally - most of the action inside takes place on the periphery of the building, with a view to the progress outside. HHD FUN, the experimental arm of HHDesign, wrapped the upper floors in verandas set behind a geometric metal casing controlling the flow of light. Behind them are development offices and meeting rooms. The rest of the building is hollow, save for an exhibition space on the ground floor. Constructed in just seven months, the centre will be taken down with the last scaffolding.
Courtesy: HHD Fun
Technology and Science Enterprising Center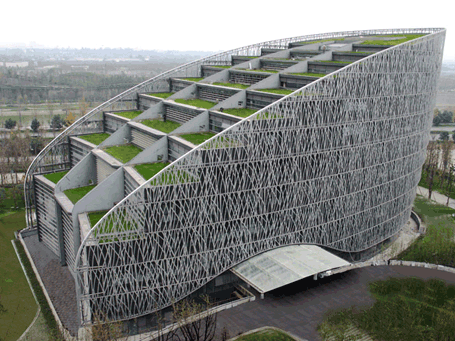 Chengdu, capital of Sichuan, is a city on the cusp of first-tier status. With a population of 11 million and counting, it's the financial hub of western China and also a hive of government activity. Paul Andreu - architect of the city's iconic opera house and courthouse - recently completed this suburban research park, joined to central Chengdu by a new metro system. Undeniably contemporary, each distinctive atrium-style structure is surrounded in a classic manner by gardens, with views to sunken pools and yet more green.
Courtesy: Paul Andreu with CSADRI (China Southwest Architectural Design and Research Institute Corp. Ltd)
The Waterhouse Hotel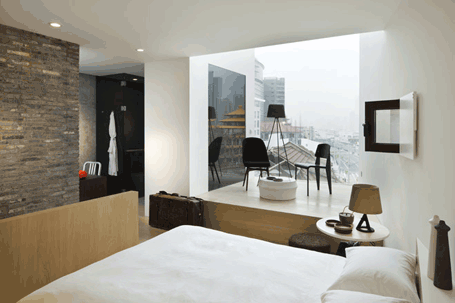 Shanghai's new Cool Docks commercial development, once desperately lacking, earned some cred with the opening of The Waterhouse, a former Japanese army barracks re-imagined as a SoHo loft hotel. Architects Lyndon Neri and Rossana Hu - local heroes who define the current Chinese Modern aesthetic in Shanghai and Beijing - kept the original brick and stripped concrete of the shell, accenting with Cor-ten steel and smooth white plaster. Modern elements were brought in with statement lighting and simple, angular furnishings. But the views are central to the design, enhanced with enormous windows facing the Huangpu - plus cheeky vertical panes that open onto the guestrooms.
Courtesy: Derryck Menere
Canton Tower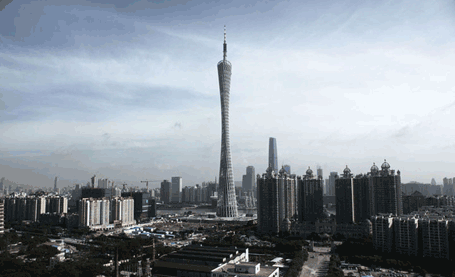 Toronto's CN Tower lost its crown last autumn when IBA's 610m Guangzhou masterpiece became the world's highest free-standing structure. Nicknamed 'the supermodel', it is, says architect Mark Hemel, a female version of the typical hard-edged structure: 'complex, transparent, curvy and gracious'. Hemel and partner Barbara Kuit designed a dynamic, asymmetrical tube of latticed steel, with a spiral staircase visitors can climb to a skywalk at the tower's cinched 'waist'. Those with a supermodel's composure can also ride the world's highest Ferris wheel, which wraps horizontally around the roof at 450m.
Courtesy: Information Based Architecture
Atelier Zhang Lei: Changsha North Star Delta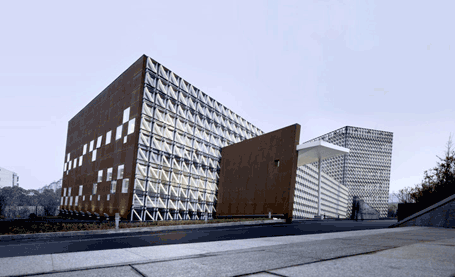 An early HQ of Mao Zedong, Changsha is becoming a capitalist idyll as development creeps along the Yangtze and up from the South China Sea. This exhibition hall for a huge commercial and cultural centre sits at the convergence of two Yangtze tributaries - represented by the building's two tilted, asymmetric cubes. More fun-house than gallery, the oblique interior spaces are embellished with geometric patterns in various media that echo the weathered Cor-ten façade. Oriented toward the Xiangjiang River to the west, the hall benefits from oblique translucent acrylic panels that keep off the sun - and also house LED lights for a 'media wall'.
Courtesy: TK
The article is republished with permission from Wallpaper.com