Injury has once again wrecked Rafael Nadal's bid for a second Australian Open title. But this time around, a lot more is on stake as the Spaniard is hoping to become just the third man ever, to win four straight Grand Slam titles in a non-calendar year– a feat that no man has achieved since 1969.
For the past two years, Australian Day has not been kind to Rafa; 2010, he retired hurt in his quarter final clash against Andy Murray. And this year, he soldiered on despite the hamstring injury he picked up at the beginning of the match against David Ferrer. From that point on, it was clear that a win is not on the cards for the nine times Grand Slam Champion – playing to the bitter end was his will to avoid another retirement on his resume.
"I hate the retirements, so this wasn't the day. I did last year. I hate that moment. I didn't want to repeat that."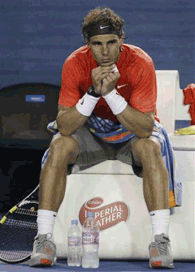 "I had a problem during the match, in the very beginning," said Nadal. "After that, the match was almost over. So that's what I can say. But you know what, for me is difficult come here and speak about. In Doha I wasn't healthy. Today I have another problem. Seems like I always have problems when I lose, and I don't want to have this image, no? I prefer don't talk about that today. If you can respect that, will be a very nice thing for me. Thank you."
This is a tremendously sad way to see the great champion drop out of the tournament, rather than a five set epic match in the final. Most would agree that this is a low after a fabulous nine months that reaped him three Grand Slam titles and regaining the top ranking.
"The tennis career, you have higher moments and lower moments. I had almost all the time very, very happy moments and very nice moments in my career. That's part of the sport. Last year I was very lucky. I was healthy most of the year. I was playing unbelievable during all the year. This year I did I think all the right things to start the season playing really well. And, seriously, I was playing like this in the first exhibition in Abu Dhabi. After that starts the problem. Was a difficult month for me, no? That's part of the sport. Accept; keep working; try my best in the next tournament. That's what I can do."
Nadal will fully assess his injury, believed to be to his left thigh, over the coming weeks before deciding when he will be able to return to the court.