There are many compelling reasons to believe that Li Na, the first Chinese player to break into the top 10 is up to the task. She is currently riding on a 10-match winning streak after winning the warm-up Sydney International title where she shocked Belgium's Kim Cljisters.
Li Na's march to the semi-finals has been impressive as well - she has yet to concede a set. In fact, her defeated opponent in the quarter-finals, Andrea Petkovic was all praise of her conqueror and even tipped her to be the 2011 Australian Open Champion.
"I think she's going to win the tournament," said the 30th-seed German.
"It's nothing that I can tell you, (whether) her forehand is good or her backhand. It's just the feeling, how she is on court, her confidence and the way she's playing.
"Sometimes you get the feeling during the match that somebody is really strong and just has that confidence going on, that aura maybe."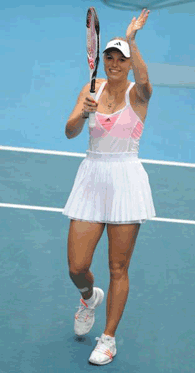 Her semi-final opponent is current world number one, Caroline Wozniacki, seen here with her "Like a Virgin" dress.
The 28-year-old will play top seed Caroline Wozniacki on Thursday for a place in the final of the Australian Open and a tilt at becoming her country's first singles grand slam champion. A match that looks likely to swing in the Chinese player's favour - her attacking tennis can overwhelm the counter-punching style of the current world number one.
The women left in the draw should be wary that the in-form player Li said she was enjoying her tennis more than last year, when she went down in two tight sets to eventual champion Serena Williams.
"I think (I) was the same (as last year). But right now (I'm) feeling more happy on the court," said Li, who, with countrywoman Zheng Jie, became China's first singles Grand Slam semi-finalists last year.
"More enjoyment, because the team - how you say - (there's) more communication with the team.
"Right now (it's) happy around the team, yeah," said Li, who has lost her coach Thomas Hogstedt last November to Maria Sharapova and is now coached by her husband Jiang Shan.
We think Li Na looks ready to wear the tiara at the 2011 Australian Open on the Rod Laver Arena this Saturday.