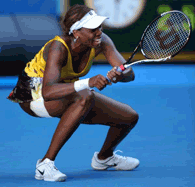 Seven-time Grand Slam Champion Venus Williams put up an extremely brave fight on the Rod Laver Arena when she pulled a muscle near her groin at the end of the first set of her 6-7(6), 6-0, 6-4 victory over her unheralded Czech opponent Sandra Zahlavova.
Williams walked back to the chair clutching her abdomen afterwards and immediately asked for the trainer. After a lengthy 15 minutes injury timeout, the 30 year-old American re-emerged on court with some strapping very high up on her right thigh and was moving very gingerly even just when she's walking. The pain became secondary as the veteran started hitting absolutely everything as hard as she can.
"It was really tough," Williams, flying the family flag alone this year in the absence of her injured sister Serena, the 2010 champion.
"But I'm a long way from home. It's such a long way home and I didn't want to go back yet.
"You've got to be able play in all circumstances - good, bad strange, weird, bizarre. I haven't retired from a match in a long time. I have to go to the bitter end."
How Venus won that match is anyone's guess and who knows whether she will be in any fit state to play again in two days time for her clash against 30th seed Andrea Petkovic.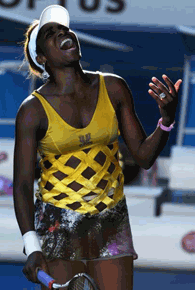 While we have no questions about Venus's credentials as a tennis star, her resume as a designer came under great scrutiny when she turned up in a dress that could be a prop from a slasher movie or a toddler's art piece. Of late, the elder of the two Williams sisters has become the Lady Gaga of tennis with outlandish outfits from her own line of apparels, EleVen.
The American explained at her post match conference that the delightful looking dess is her interpretation of what Alice would wear in Wonderland.
"Oh, the outfit is inspired by Alice in Wonderland." explained the world number four.
Unfortunately, laughter broke out in the conference room.
"Yeah, don't laugh. But it's kind of about a surprise, because when Alice goes down the hole, the rabbit hole, she finds all these things that are so surprising.
This outfit is about having a surprise in tennis a dress, and kind of, you know, showing some skin and then just having a print. Prints don't happen that often in tennis. So it's called the Wonderland dress. It was fun."
Here's hoping that Venus steers clear of rabbit holes and hang around longer to entertain us with her other dresses.