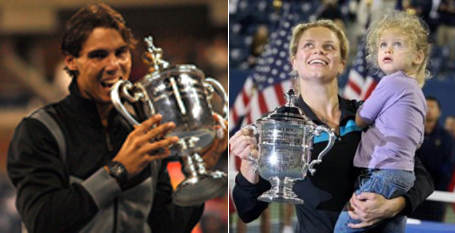 Man of the year: Rafael Nadal
Merely five years ago, Rafael Nadal burst on to the scenes as the new clay court king. Now at a tender age of 24, the Spaniard has won his first US Open to become the youngest player ever in the Open Era to complete the career Slam. He has now won three consecutive majors, having captured the titles at Roland Garros and Wimbledon earlier this year.
Nadal could also go on to achieve the "Rafa" Slam where he holds all four majors simultaneously, albeit not in the same calendar year, if he can win the Australian Open when that swings around again in January.
Catch her while you can: Kim Clijsters
In the finals, mama Kim crushed Vera Zvonareva in one hour; that's swift work for a massive US$1.7 million. Even though it must be said that Clijsters did have to work hard to put down tough opponents like Samantha Stosur and Venus Williams on her way to the finals. But her third US Open victory left us with an overwhelming sense that she is planning yet another quick exit from professional tennis to hatch Jada version 2.0.
Pretty face, ugly tennis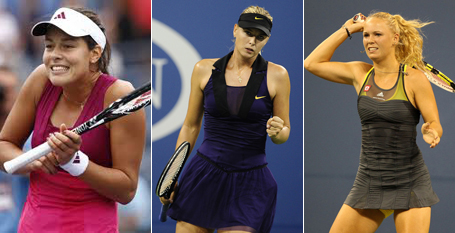 1) Ana Ivanovic, 2) Maria Sharapova and 3) Caroline Wozniacki.

1) Two years ago, she was the top female tennis player in the world, Ana Ivanovic came into the 2010 US Open as an uncertainty. She showed us glimpses of her world dominating style of tennis in her first three matches but she won only three games against her one good friend on the Sony Ericsson WTA Tour - Kim Clijsters, in the fourth round.
2) We were surprised to see Maria Sharapova to have yet another lackluster US Open campaign. Her promising pre-tournament showings did lead us to believe that she has sorted out her serve. Nine double-faults and 36 unforced errors proved to be the nails in her coffin as she was kicked out of the open by a less experienced Caroline Wozniacki.
3) Who incidentally is our other disappointment of this event, even if she made it to the semifinal. The Dane came into the tournament with three hardcourt titles this summer and was in the best form ever. Seemingly, she started cracking under the pressure as the top seed and was shown the door by improving Russian Vera Zvonareva. Watch out for her rapid decline in the months to come.
Faces of despair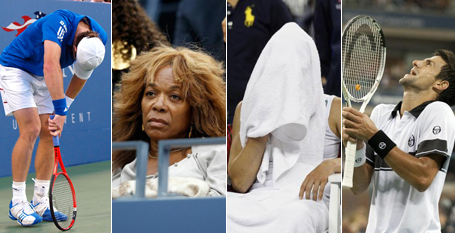 1) Andy Murray, 2) Oracene "Brandy" Price, 3) Vera Zvonareva and 4) Novak Djokovic

1) Would you need more clues to know why the Scotsman crashed out of the open? During his third round loss to Stanislas Wawrink, Murray seems more interested to end the match than put up a fight to overcome his physical shortcomings.
2) She is mother and coach to the Williams sisters. Among all the parents of tennis stars, she is the gold standard for playing it cool, no matter how the girls are doing on court. At this edition of the US Open, she ups the ante by turning up with a swanky new haircut. It sadden us to see the coolest tennis mum/coach frown throughout Venus's semifinal match against Kim Clijsters. Oracene should have kept her "Wintour" shades on.
3) No, Ku Klux Klan has not made it to the Arthur Ashe stadium. This is finalist Vera Zvonareva during changeovers. 2010 has been a breakout season for her as she has displayed more confidence and developed a more devastating all-court, but one can't help but feel she needs to put on a more convincing demure during big matches. Hiding under towels is most certainly a no no.
4) The men's final match is a competitive and entertaining match. Finalist Novak Djokovic could have been easily bulldozed by Rafael Nadal, but the Serb has the heart and courage to put up a good fight. Towards the end of the match where things started to look bleak, the third seed was seen seeking for divine interventions desperately.
Runway at Flushing Meadows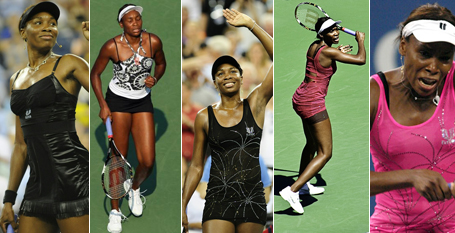 Seven-time Grand Slam champion Venus Williams is a lady of many talents. The highest ranked veteran has just turned 30 this July clearly has no intentions to look like one. She came to the US Open armed with seven dresses from her own design label EleVen.
"So far this year my outfits have been based on the cities that I play in. This outfit was supposed to be about New York. It's like bursts of fireworks," she said on her latest selection.
"Seven is a lot of dresses. It would be an honour to wear seven dresses all the way through," she said. Despite playing six matches, she has only showcased five dresses.
Terrible miscast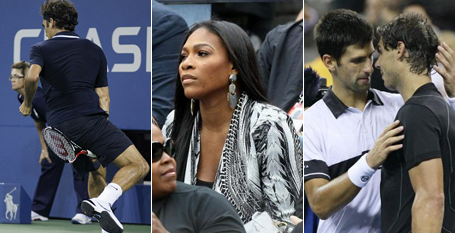 1) The Swiss Tripod (Catalina Video) Starring: Roger Federer
2) Pocahontas (21st Century edition) Starring: Serena Williams
3) Brokeback Mountain goes to NYC Starring: Rafael Nadal and Novak Djokovic