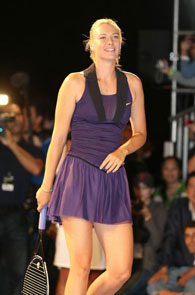 The US hardcourt summer swing is soon to hit high pitch as the top tennis players will be heading to Flushing Meadows in New York City to battle it out for the last Grand Slam event of the year, starting August 30.
One of the most encouraging and exciting things happening in women's tennis at the moment is the resurgent of former world number one, Maria Sharapova. During the lead-up tournaments to the US Open, she made two finals at Stanford and Cincinnati. It was clear that she is beginning to regain her confidence and the mental strength that took her to three Grand Slam titles.
Sharapova may not have walked home with the trophies during the US Open series tournaments, but she has demonstrated that her all-out offensive game is gelling up together nicely. In fact, Sharapova clearly had Kim Clijsters on the ropes during the Cincinnati final until the rain interrupted play.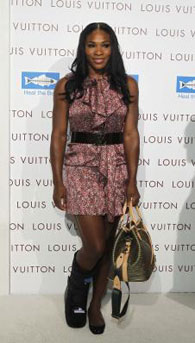 See this is what Serena Williams has been up to; posing at a party celebrating the opening of a new Louis Vuitton store in Santa Monica. Note the massive cast on her foot.
Regardless, our confidence in the Russian superstar is on the basis that she seemed to have ironed out the issues with her serve. In her matches post Wimbledon, she has been dishing out her serves that comes with both power and placement and crucially, double fault has become a rarity.
Other than an upsurge in form, Maria has been awarded a golden ticket to this year's US Open. Her long-time nemesis, Serena Williams has withdrawn from the US Open because she is still recovering from surgery on her right foot. Williams, who won her 13th grand slam at Wimbledon earlier this year, cut her foot on broken glass at a restaurant in July and has not played since. A pity, as it would have been interesting to see the American tennis diva return to Flushing Meadows after her raging exit at this event last year.
With the absence of Serena Williams, world number two Caroline Wozniacki has been named top seed at the US Open. The 21-year old who is the spokesperson for Stella McCartney's line for Adidas should be confident of her game as she has just won the biggest title of her career yet at Montreal. The Dane's sternest test would be her potential fourth round opponent Maria Sharapova; that would be a real test for both players.
Second seed and defending champion Kim Clijsters was looking in sensational form with a 13-match winning streak on American hardcourts this year until she hurt her left hip. Well, Clijsters is not the only top-ranking female player not at 100%; third seed (Venus Williams, left knee), fourth seed (Jelena Jankovic, ankle) and fifth seed (Samantha Stosur, shoulder). Even hot favourite, Sharapova has just recovered from a heel injury sustained during the finals at Cincinnati.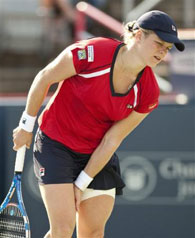 Injury clouds Mama Kim's abilities to defend her US Open crown.
Given the injury-plagued field, there would be chances for some players to seek redemption after a lackluster season; Svetlana Kuznetsova, Elena Dementieva, Ana Ivanovic and Victoria Azarenka. Anyone of them is capable of springing a surprise at Flushing Meadows as they have shown signs of progress of late.
With notable absence of household names like Serena Williams and Justine Henin, women's tennis really needs Sharapova to step up and hold people's interest. Otherwise we will be forced to sit through matches with names that would take half of the match's duration to master.