Yossi and Jagger יוסי וג'אגר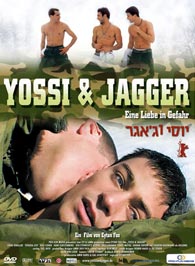 Dir: Eytan Fox | Israel | Romance | 2002 | 67 minutes | Hebrew (with English subtitles)
10 Aug: 7.00pm (Post-film discussion with Ms Idit Abu, Deputy Chief of Mission, Embassy of Israel)
12 Aug: 9.00pm (To be screened with Wong Kai Xuan's The Same Ties That Bind)
Israel, like Singapore, has a conscript army. The difference is that Israeli soldiers see action. They face enemies who shoot back and aim explosives at them, so soldiering is serious business.
Like conscript armies everywhere, the men — and women — draw from a cross section of society. Yaniv, with his talent for cooking, hopes to open his own restaurant. Yaeli has her eye on Lior and discretely asks to be introduced to him, hoping to find true love. But Lior is not only gay, he is madly in love with his platoon commander.
Yossi and Jagger, a film made originally for television, but released theatrically to critical acclaim, may be only 64 minutes in length but it packs a punch. Director Eytan Fox and screenwriter Avner Bernheimer bring out all the key issues that surround young love and sexuality in uniform with a masterful deftness in its economy. The tension between affairs of the heart and the demands of the frontline, and that between the flaunting of heterosexual affairs and the need to hide one's gayness, drives the story along to its heartbreaking conclusion.
Fine acting, good pacing, and a raw setting in a military outpost, create a story that feels awfully real, leaving the audience outside its comfort zone by the end of the film.
The film Yossi and Jagger is proudly sponsored by the Embassy of Israel in Singapore. The Tuesday screening will be following by a post-film discussion with Ms Idit Abu, Deputy Chief of Mission, Embassy of Israel.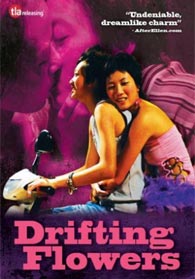 Drifting Flowers 漂浪青春

Dir: Zero Chou | Taiwan | Drama | 2008 | 97 minutes | Mandarin/Hokkien (with English subtitles)
11 Aug: 7.00pm
12 Aug: 7.00pm
Official Selection, Berlin Film Festival. Teddy Award-winning Director Zero Chou of Spider Lilies fame weaves three poetic tales as the lesbians in Drifting Flowers seek their true identity. In the first story, Jing, a blind singer, falls in love with her band's butch accordionist Diego. In another time and place, Lily, an elderly lesbian and Yen, her gay friend, create an unexpected bond and support each other in a time of crisis. Finally, we see Diego before she joined the band, when as an awkward teenager she meets another lesbian who affirms her identity.
---
IndigNational Queer Shorts
10 Aug: 9.00pm
11 Aug: 9.00pm
Threshold

Dir: Loo Zihan | Singapore | Drama | 2009 | 19 minutes | English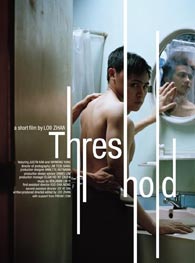 In a dingy motel room that is as hot and clammy as the jungle painted on its walls, a sexual threesome has been arranged to take place. Except that the two men lying in wait are officers from the Central Narcotics Bureau, ready to apprehend their suspect, who is going to show up with crystal meth at any moment. In what appears to be a routine crackdown operation, which walls will come tumbling down, and what thresholds will be crossed? In the film's tropical swelter, how does one ascertain that everything one sees is not a mirage from a fragmenting mind?
The short film received the Best Script award at the Singapore Short Film Awards 2010.
Transproofed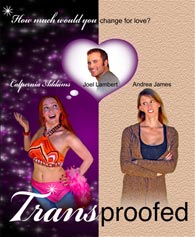 Dir: Andrea James | USA | Comedy | 2009 | 14 minutes | English
Ava's showgirl friends are openly transgender, but like many trans women, Ava dreams of living a quiet life where her trans status is not an issue. Ava's friend Joyce urges her to go "stealth", but as Joyce pushes Ava to hide more and more of her past and her identity, Ava begins to wonder if it's all worth it. Calpernia Adams and Andrea James star in this comedy about a woman attempting to "transproof" her apartment before her date arrives.
Brothers

Dir: K. Rajagopal | Singapore | Drama |1997 | 22 minutes | English
One day while driving in his car, Richard almost knocked down Ganga who was pursued by two thugs on motorcycles. When Richard bumps into Ganga later at a hawker centre, he buys lunch for him when he realised that Ganga has not eaten for days. From then on, the two struck up an unlikely friendship, always meeting at the bridge at Rocher Canel Road. However, Ganga's days as a fugitive on the run is coming to an end and Richard must make a choice between the two very different worlds that each of them inhabits.
Commissioned by Theatreworks for the stage play Workhorse Afloat, Brothers tells the story of the friendship between Ganga, an illegal migrant worker and Richard, a middleclass Singaporean Indian.
5 Films in an Anthology of a Film a Month

Dir: David Shiyang Liu | Australia | Experimental | 2009 | 22 minutes | English
5 Films are the moments in our lives we don't forget, a testament to the stories that everyday people collect. The average city dweller has lived about thirty plus years of life. Thirty years - long enough for an accumulated storage of memories anchored by the 5 senses of sight, sound, smell, taste, and touch. Two people fall in love through a shared commonality, but never meet. A mother fantasizes over her son's best friend. A young girl sprays cologne over common household items. A man develops a palate for his mother's goldfish. A girl follows a limping stranger around a city.
Filmmaker David Shiyang Liu conceives this anthology of 5 films centred on the 5 human senses; the series was inspired by and featured the music of Nine Inch Nails' GHOSTS I-IV album. The short film also received the Best Editing award at the Singapore Short Film Awards 2010.
Anniversary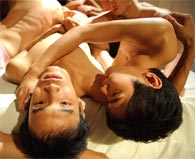 Dir: Royston Tan | Singapore | Drama | 2009 | 20 minutes | English
Wai Kit, a 23-year-old undergrad, lives with his 27-year-old boyfriend, Justin. They are about to celebrate their first anniversary together. However, Justin was given a lukewarm response by Wai Kit when he put forth his suggestions. Following a call from Jimmy, Wai Kit insisted on moving out of the house, leaving Justin wondering what had gone wrong between them. Anniversary is a story of love, of what trust mean and the need to find out the truth. "Anniversary" will touch your heart and remain in your mind long after viewing it.
All screenings are rated R21 and are held at Sinema Old School, 11B Mt Sophia. Tickets at $10 will be on sale online at http://tix.sinema.sg/index.php. The programme may be subjected to changes.