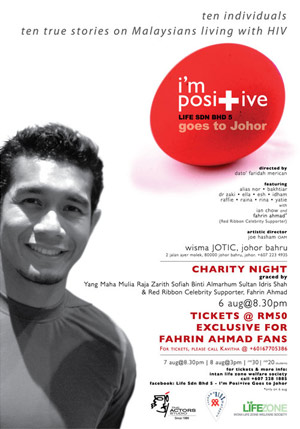 It's been described as "The HIV Monologues – Malaysian Style! – a no-holds barred unscripted collection of monologues (with a couple of original songs thrown in for good measure) that will be performed by real people (non-actors) living with HIV or those who feel strongly for the cause."
Produced by The Actors Studio, Kuala Lumpur in collaboration with the Malaysian AIDS Foundation (MAF), the fund-raising arm of the Malaysian AIDS Council, Life Sdn Bhd 5: I'm Posi+ive Goes To Johor will feature ten individuals will share how they have been affected by HIV/AIDS. Some have been tested positive while others have partners who have tested positive. Some are married with children while others are in search of that special someone. Their stories will centre on love, life and most important of all, living.
I'm Posi+ive will feature Ariff Akhir's brand-new "Take Me Home" and Ian Chow's moving "What If".
Popular actor Fahrin Ahmad, one of MAC's Red Ribbon Celebrity Supporters, will make a special guest appearance on Aug 6 to talk about his experiences as an HIV awareness advocate in the past year. HRH The Sultanah of Johor is also expected to grace the event.
All proceeds will go to Intan Life Zone Welfare Society, a Partner Organisation of the Malaysian AIDS Council.
Life Sdn Bhd 5: I'm Posi+ive Goes to Johor
Date: 6-8 Aug 2010
Venue: Wisma JOTIC, Johor Bahru
Showtimes: 6 & 7 Aug (8.30pm), 8 Aug (matinee 3pm)
Ticket prices: RM 100 (Charity Night, Aug 6), other shows RM30 (general), RM 20 (students)
Enquiries & ticket hotline
Intan Life Zone Welfare Society @ +607 228 1885