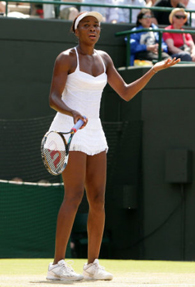 Underdogs ruled the lawn tennis courts of SW19 as three out of the four victors at the 2010 Wimbledon ladies quarter-final matches needed some form of introduction.
Pre-tournament favourite and five-time champion, Venus Williams crashed out to unheralded Tsvetana Pironkova in the first quarter-final. The undisputed queen of grasscourt tennis of recent times gifted the Bulgarian ranked 80 places below her, 25 unforced errors and five double faults, which explains the shocking 6-2, 6-3 scoreline.
This marked the first time since 2006 that Miss V did not make it to the finals of Wimbledon. Perhaps someone in the Williams camp should have reminded Venus of her previous loss to Pironkova in the first round of the 2006 Australian Open. Incidentally, this would be the first time the Bulgarian has managed to string five wins on the tour.
The next big name to fall was US Open champion, Kim Clijsters as she cracked under the aggressive play of Russian comeback lass, Vera Zvonareva. Looks like our projected semi-final match up between Venus and Kim has been replaced by a pair of Eastern European girls battling it out in a predictably (understandably) empty center court.
After calling off the scheduled popcorn munching (butter-free, of course) match between Venus and Kim, we were left wondering if the defending champion Miss S will fold to the prevailing theme of "big names" upsets (Serena's quarter-final match against Li Na was the last in the schedule).
Well, luckily for us (unluckily for some), Serena came through a tight first set as she took advantage of her only break point in the 11th game before serving out for the opener after 45 minutes. And the challenge from the 9th seed Chinese player, Li Na started to fade in the second, as her forehand went wide to give Serena victory on the second match point.
See Serena is already thinking hard about where to place Grand Slam number 13's trophy.
As Serena is surrounded by a trio of unfamiliar Eastern European challengers, Russian Vera Zvonareva, Czech Kvitova and Bulgarian Pironkova, the 2010 Wimbledon title seems to have been handed to her on a silver platter.
Well, not according to Serena.
"It's not mine to lose, it's mine to win if I can get it.
There's three other people that are vying to win it. They have just as good a chance as I do," said the 28-year-old.
"I don't feel like I've been playing my best tennis in this championship. I feel like it would be a good win to get under my belt."
Serena is clearly trying very hard to play modest here. The defending champ has yet to drop a set at this year's tournament and she has gunned down 73 aces in her past five matches. There are some moments where we see her mis-time some of her groundstrokes, but that's not enough to cause any concern.
If by any chance Serena Williams fails to win the 2010 Wimbledon Ladies Championship, please do not blame Fridae's editorial team for having jinxed her.