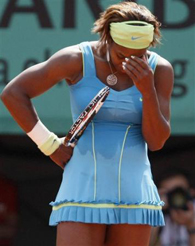 For the first time in ages, world number one and 2002 Roland Garros champion Serena Williams was being out-punched in a titanic 6-2, 6-7, 8-6, quarterfinal tussle by in-form Aussie Samantha Stosur.
Serena entered the contest with a 4-1 advantage over Stosur, but this would be their first encounter on clay. The first set which lasted only 36 minutes, Serena looked in danger of being blown away by a confident opponent who has accomplished a seemingly impossible task of eliminating four-time Roland Garros champion Justine Henin in the previous round.
After surviving a massive scare where Stosur failed to serve the match out at 5-3 in the second set, Serena started to will herself back into the match as she dominated the second set tie-break to bring the match into a third and deciding set.
In the third set, the Australian kept to her game plan despite Serena's growing aggressions. Huge kick serves, booming forehands and low tricky backhand slices were employed to keep Serena off balance. A key moment for Stosur was surviving a match point in the tenth game where Serena's forehand went long.
Perhaps being stung by past criticisms of being a sore loser, Serena actually gave credit to her victorious opponent. "She's a good player," she said. "I made so many errors, and I definitely was nowhere near my best today. But she played really well. Last year I choked [against Svetlana Kuznetsova]. I guess it's a redundant story with me."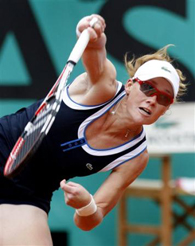 See, we told you Serena will play the "NICE" gal after her US Open fiasco.
Looks like Serena's biggest push yet for a second Roland Garros crown is not quite enough. Is Serena a victim of Stosur's new type of racquet string that is said to produce tremendous spin and explosive power? Not unlike Gustavo Kuerten's key to his first French Open title in 1997.
"Not too many girls out there hit with a lot of spin like me and Francesca," Stosur said. "I think if there is a surface where players like us can do well, I think clay is just as good if not better than hard courts. It's a different ball that they have to see that they're not used to."
Looks like the Williams camp needs to go back to the drawing board for their next assault on the Parisian clay in 2011.