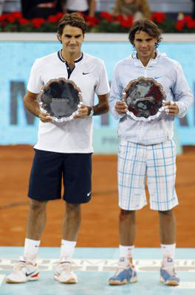 128 men will be battling it out on the Parisian clay courts as the 2010 French Open starts this Sunday, 23rd May. And there will be a familiar outlook to the men's drawsheet as only two names seems to matter when it comes to the winner's circle; Swiss world number one and title owner, Roger Federer and world number two, Rafael Nadal.
Nadal's injury woes started twelve months ago, when he made a shocking 4th round exit at the French Open at the hands of Robin Soderling. Federer, the second best clay court player in the world went on to win his first Roland Garros title (after four consecutive loses to Rafa) to complete his career slam.
Since Nadal's return from his enforced break to nurse the tendonitis in his knees, we were worried that the greatest tennis rivalry has come to an abrupt end. Rafa's form was questionable as he has not won a single tour title and he has failed to beat any top 10 player until this March's Miami Masters.
Things started to look up for Rafa once the European clay court season started in April. The Spaniard reasserted himself as the player to beat as he became the first player ever to win all three ATP Masters titles (Monte Carlo, Rome and Madrid) on clay in a year. Of significance, he beat Federer at the finals in Madrid.
As usual, Roger Federer shrugged off his Madrid Masters final defeat as irrelevant, as he feels that the claycourt season should be determined by one's performance at the French Open. The world number one is confident of his form despite a dismal 6-3 record on clay so far, including a shocking 2nd round knockout at the Rome Masters by young gun, Ernests Gulbis.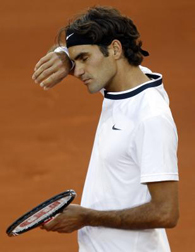 "Rafa's and my clay court seasons are decided at the French Open, and not before," the 28-year-old Federer said.
"It's unfortunately - or fortunately - like that. If we win all the tournaments like Rafa now and then go out in the first round of the French, everything will be questioned."
While the 16-times Grand Slam winner might sound cocky (he is allowed to be), it will be an extremely tough ask for anyone to beat him in a best of five sets match. It will be a huge surprise if we do not witness a Federer-Nadal final yet again.
Sounds terribly boring, but there can be fun in a Federer-Nadal final. We are picturing a flustered Federer at the mercy of Nadal. But, we suspect there will be no water works this time around.
Well, there are dangerous in-form players such as David Ferrer and Fernando Verdasco that are tipped to go deep into the tournament, but they don't look like the potential winner to us.
Our list of unlikely winners would extent to world number three Novak Djokovic and world number four Andy Murray. Both have hit a bad patch of form, particularly Murray after his blow-out defeat at the finals of the Australia Open.
So again, the action and drama would be on the women's side.