In its fourth year, Song Kran 2010 will be the biggest and most spectacular event to date, say Tom and Oui, organisers of gCircuit. The 3-day event will feature DJs Roland Belmares, DJ Ralphi Rosario of Rosabel fame and DJ Tye at Eden, Paradise and Oasis respectively.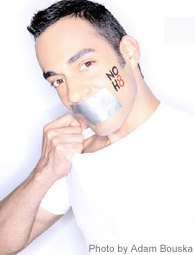 DJ Roland Belmares began his DJ'ing career back in 1996 at a small club called The Forum in his hometown of Austin, TX. Roland quickly garnered a steady following and slowly began building a name for himself in town and far beyond the walls of his weekly residence. Since that time, Belmares has been called to play for several top events across the US from San Francisco to Miami, including major circuit events like White Party, Winter Party (Miami), Alegria (New York), Joining Hearts (Atlanta) and the world famous Gay Days (Orlando) headlining the original Reunion Pool parties, Arabian Knights and the weekend's crown jewel: One Mighty Party! He's even broken the international barriers to play in Canada, Brazil, Amsterdam and was recently booked for a series of events in the Asian market in both Hong Kong and Bangkok.
Q: What are you working on now?
Roland: Right now between my traveling schedule and school [Roland is currently back in school working on furthering his education and further honing his musical production talents], I haven't had time to pick work in the studio. But Billie Myers has approached me to work a mix on her new album and I can't turn my girl Billie down. :)
Q: Any plans on a new album, maybe your debut studio album?
Roland: Hopefully come spring, I can start planning something, but in the meantime we are updating my website and it's going to be able to accommodate a "podcast" that I will update monthly!
Q: Of all the remixes you've done for other artists, which is your most favourite?
Roland: It's a tossup between two totally different songs. Abigail's "Songbird" was so easy to work on. The vocals were flawless and so easy to build a track around, and everything just came together for that track. The other track is Billie Myers "Just Sex". She is so fun to work with. She actually went back in the studio and recorded some new vocals for me and even had fun using my name in some ad libs! (Let's just say they were a little too "naughty" to be included in the final mix! LOL)
Q: Dream songs that you want to remix?
Roland: Hmmm... I guess it's a little "old school", but I'd love to remix Deborah Cox's "Nobody's Supposed To Be Here." That was one of the first anthems in sets when I first started, and also from that time either "Kiss the Rain" by Billie Myers or "Let the Joy Rise" by Abigail. Something a little more current, there is a show called "Glee" here in the states about a show choir, and every week they cover popular songs... I'd really love to turn one of those tracks into an anthem if I could. :)
Q: How much do you compromise when doing a remix?
Roland: It depends on the artist and who I'm working with in the studio. For the most part though once I start on a production, I follow it through from my original concept. If the artists ask for some minor changes, I'm always open for that but so far I've never had the experience of having to scrap my concept and start over due to creative conflicts. :)
Q: What kind of music did you grow up listening to, and how did electronic music happen?
Roland: I have always listened to "Pop" music as far back as I can remember. And I do come from a Latin family, so that style of music was always an influence on me even when I didn't want it to be. lol :) And I'd have to say it was in the mid to late eighties that I discovered 12" vinyl and thus my introduction to Electronic/Dance music took off!! I had no idea that "extended/club" mixes existed until I happened onto my first piece of dance vinyl at a record store in the mall. From the first time I heard an Extended Mix I was hooked. I would save my lunch money for school back then to buy dance singles on vinyl. Me and a buddy saved up to buy DJ turntables and a mixer but we didn't know what we were doing then. Still my journey had started and once I was introduced to the gay scene in the mid 90's...well, everything just clicked. :)
Q: Who's your idol?
Roland: Gosh, so many people have had an impact on me. Manny Lehman really made me feel like a true peer from the beginning and his mixing technique is flawless. Abel and Tony Moran are the DJs who really brought me back to my Latin roots with their sound, and Ralphi Rosario is a production god in my book. So those guys would be my main influences/idols. :)
Q: How has the electronic music scene changed since you started off?
Roland: For one, everything has gone digital! When I first started it was all vinyl. The only CD player in the club was for during the day at Happy Hour. Now so many people play off their laptops! LOL As for the music, well when I started DJ'ing, Frankie Knuckles and David Morales were the big remixers, so the dance stuff had lots of piano and lush productions. Then Thunderpuss, Victor Calderone and Hex Hector dominated the scene turning pop music into big Circuit Anthems and taking the energy level through the roof! :) Then the internet went high speed and everyone started downloading illegally and the really hurt the dance scene as the dance music budget was the first to be cut once the record labels started losing money. Then Electro really seemed to take over, but as a DJ that style never moved me, so I'm glad to see that groovy house is making a comeback with the likes of Moto Blanco and Freemasons! But through it all my overall style has remained pretty much the same, with some minor tweaks here and there to keep up with the times. :)
Q: What can we expect from your show in April?
Roland: Some high energy, kickin beats!! (With some fierce vocals of course!) ;-)
Advance combo tickets on sale till 8 Apr 2010, and is available for online purchase exclusively on Fridae. Ticket sales are also available at selected offline ticketing outlets; go to www.gcircuit.com for more information.