In its fourth year, Song Kran 2010 will be the biggest and most spectacular event to date, say Tom and Oui, organisers of gCircuit. The 3-day event will feature DJs Roland Belmares, DJ Ralphi Rosario of Rosabel fame and DJ Tye at Eden, Paradise and Oasis respectively.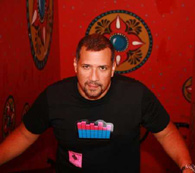 Chicago-based DJ Ralphi Rosario will spin at the Paradise party on Apr 10 at ZEN Event Gallery at Zen World, Bangkok.
Chicago-based DJ Ralphi Rosario began spinning records for friends at house and school parties in the late 70s. Almost a quarter of a century later, he still spins for legions of friends at massive gatherings around the globe in such nations as Germany, Italy, Switzerland, Spain, Austria, Portugal, Canada. Shortly after his start as a DJ, Ralphi created dance/house music history as a member of the world renowned Chicago 'Hot Mix Five', delivering his mix magic to the masses over the airwaves for nearly a decade.
Q: What are you working on now?
Ralphi: Right now, I've just finished up remixes for Shontelle's "Licky," and Selena Gomez's "Naturally." I'm also wrapping up mixes for a new Rosabel Single "Get funky" and a new Dave Aude song as well... Also going to jump on a new Ralphi Rosario Single or EP for this coming summer.
Q: What's your favorite track that you've remixed?
Ralphi: I really enjoyed working on Janet Jackson's "Feedback." I've so many that I love, but second to that has to be Pussycat Dolls' "Don't Cha".
Q: How does dance music appeal to you?
Ralphi: All forms of dance music pretty much appeal to me; I love 'house & tribal' house/vocals. As well as all those pretty/melodic deep house tracks that surface from time to time. I love it when dance producers take the time to musically put a great finish on their tracks.
Q: You seem to have worked tirelessly over the past years. What keeps you inspired?
Ralphi: People inspire me! My fellow remixers & producers keep me on my toes; and all the wonderful singers out there make it come together for me. My past was shaped by many different types of music, so inspiration comes in many forms.
Q: Who's your idol, music-wise?
Ralphi: Patrick O'Duffy (Swing out sister fame), DJ/producer Carlos Fauvrelle; and Dave Aude are great inspirations...
Q: You've worked with many famous artists. Which one is your favourite?
Ralphi: My favorite to date is Donna Summer. I grew up listening to her and it was an honor to work on a few things with her. When we finally spoke on the phone, I was speechless....
Q: Any plans to release your own solo album?
Ralphi: You know, lots of people have told me to revisit that, and I just may this year! A full length LP is always more challenging, and the magnitude of people that Can help can be amazing!!! I just may reach out to a few major artists as well! :)
Q: What would be in the repertoire for the party in Bangkok this time?
Ralphi: This is my first time playing in Bangkok; I'm VERY excited! I'm anxious to give Bangkok the Ralphi Rosario Experience... LOL!
Early bird combo ticket sales will start from Feb 11 and end on Feb 25, and is available for online purchase exclusively on Fridae. Ticket sales are also available at selected offline ticketing outlets; go to www.gcircuit.com for more information.