Since the 2008 French Open, Serena Williams has been in the driver's seat to win every Grand Slam. Other than her demons on clay and an injury-free Venus (Wimbledon'08), it was all for Serena Williams to take. Hence three Grand Slam singles titles and a firm grip at the world number one ranking. Will the two returning Belgians and a resurgent Russian ruin Serena's recent late career renaissance?
We rate each of the top runners for the Daphne Akhurst trophy. So let's start with them: The Belgian bashers, Kim Clijsters and Justine Henin.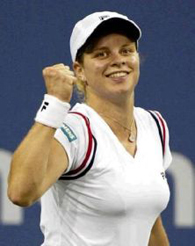 Aussie Kim, yes that's what Australians are still affectionately calling the U.S. Open champion, despite those Kim and Llyeton Hewitt days are truly behind them. The new rounded figure of our young mum seems to have given more weight and zing to her goundstrokes. Witnessed how bagged Serena was running after those deep and fast balls during their US Open semifinal? With her new fitness regime during the off-peak season, she will be an even greater force to be reckoned with. Will the pressure of not winning the Australian Open before and being a heavyweight favourite now weigh against her? In her pre-maternity days, this will crush her. Tough draw sees Kim seeded to play French Open champion Svetlana Kuznetsova in the fourth round and potentially Justine Henin or Elena Dementieva in the QF, but mama Kim looks heavy enough to blast through to the Semis at least.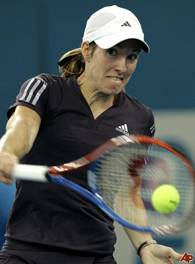 Meanwhile, the seven-time major champion, Justine, says her 20-month layoff has made her a "more mature" person, hopefully a better player now. Based on her performance at Brisbane, she is indeed serious about this comeback. Looking as fit as ever, her new bigger serve seems impossible from the petite figure. Her precise and high-risk game might take longer to click: hence a second Australian Open championship, in her first month back on the tour? Even if Henin can get by her second round match with 5th seed Elena Dementieva, the possible quarters match-up with Kim seems a little beyond her for now.
If you think Henin was away for a long time? Well, so was the Russian glamour girl, Maria Sharapova; 10 months of rehab and surgery accompanied with another 8 months to get her modified serve motion to gel. Based on her Tokyo Pan Pacific title and recent exhibition match wins over Venus Williams and Caroline Wozniaki, there are encouraging signs that she con overcome potential 4th round opponent No.2 seed, Dinara Safina and Jelena Jakovic in the quarters. Her serve still needs work but a first Grand Slam Semis since her injury looks possible.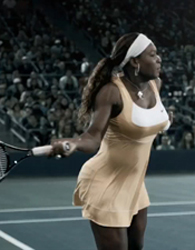 With all the intriguing action on the other half of the draw, Ms Williams should have a trouble free campaign until the quarters where she encounters No.7 seed, Victoria Azakrenka. To be honest, Serena Williams has plenty of variety in her game, but she usually lands up with unexpected losses when she tries her plan B. Armed with the best serve in the women's tour, all she needs is sheer power and determination to blast her opponents off. To be honest, Serena Williams is extremely hard to beat, if she is on song. Remember how terrifyingly good she was at the Australian Open Final in 2007?
Other notable mentions:
Heartbreak gal: Venus Williams
The Good Sister is refusing to hang up her racket just yet because she wants to participate in Olympics 2012 in London at her beloved Wimbledon courts. Her troublesome knees won't hold up for 2 weeks on a hard court Grand Slam.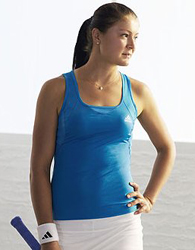 The Breakdown gals: Dinara Safina and Svetlana Kuznetsova
2009 saw the meltdown of the two leading Serbs. 2010 could be dethroned world number one, Dinara Safina and current French Open champion, Svetlana Kuznetsova's turn. Both are already showing signs of cracking with early losses at warm-up events.
Breakthrough gal: Sabine Lisick
The Germans have been waiting for a Steffi Graf MK2. Her laser sharp forehand and big serve might be key for the tall blonde to be the IT gal of 2010.
And the winner will be ... Serena Williams. The final won't even be close, in fact. The defending champion will be making nice off the court, and probably between points, too. But when the ball's in play, that killer instinct will take over. When Serena is fit and focused (and she appears to be both), she remains the class of the field, if not the class act.
Ps, we will not be running a preview of the men's draw. Seemingly at Grand Slam levels, it's either Mr RF or someone who is lucky. All the action and drama belongs to the ladies for this edition of the Australian Open.