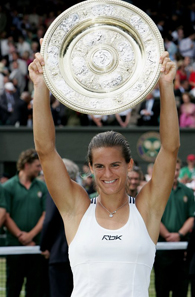 Over a decade ago at the 1999 Australia Open, Amelie Mauresmo came out to the world at a tender age of 19, after top-ranked players like Lindsay Davenport and Martina Hingis fired accusations of Amelie could be a man, as she displayed power and athleticism that women's tennis has never seen before. Of the two, Davenport has apologised unreservedly for her remarks that came after a stunning lost to a (then) unheralded Mauresmo. We are still waiting for cocaine-girl, Hingis' s apology! Mauresmo merely dismissed the comments as "a little stupid."
The 30-year-old Frenchwoman remains the only French player, man or woman to ever attain the world number one ranking, where she spent a total of 39 weeks at the top. Her best season came in 2006 where she won two Grand Slam titles, the Australia Open and Wimbledon. Both titles came at the expense of fellow single backhand queen, Justine Henin.
"I don't want to train anymore," Mauresmo said after shedding tears about the decision. "I had to make a decision, which became evident in the last few months and weeks. When you grew older, it's more difficult to stay at the top."
Her last tour title and her 25th singles title - her first in almost two years - in Paris this season, did suggest that she may yet hang her racket up after three years of struggle with form. Not to mention that she had scored seven wins over Top 10 players in her final year.
"It's a bit sad, but this is the right decision," Mauresmo said. "I was lucky enough to have an exceptional career and to experience very strong feelings on the court."
Mauresmo's last ever match was losing at the second round of this year's U.S. Open to Canda's Aleksandra Wonzniak 4-6, 0-6.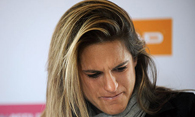 A tearful Amelie Mauresmo at the press con. to announce her retirement.
"It became very hard in buildup to the U.S. Open," Mauresmo said. "If I were able to enter the court, play and shine, of course I could continue, but to achieve this you need to put in such hard work. And I'm not capable of that."
Mauresmo said she has no regrets and feels proud when she looks back at a career that started in 1993.
"I dreamt of this career, I dreamt of winning a Grand Slam title," she said. "I lifted trophies in every city in the world and I lived 10 magical and unbelievable years."
Her inspiration to pursue a tennis career came from watching Yannick Noah winning the 1983 French Open, Oddly, Roland Garros continues to haunt Amelie Mauresmo year after year, as she struggles to come to terms with the pressure of playing in front of her home crowd. Her best performance at the French Open was merely the quarterfinals, a dismal record considering her achievements at the other three slams.
Mauresmo's other notable achievements includes helping France win the Fed Cup in 2003, the WTA Tour championship in 2005. and the Olympic silver medal in Athens in 2004.
Asked about a possible comeback ala Henin and Clijsters, Mauresmo said her decision was definitive.
"Even if I've learned to never say never," the Frenchwoman said. "The players you are thinking about stopped earlier than me before coming back."
Amelie Mauresmo stood out in the tennis world as one of the only two out-lesbian players, as well as her deadly single-handed backhand, old-school serve and volley and her assertive serve. She had all the flair expected from a French tennis player. Despite her occasional big-match chokes, her different style of tennis from the typical baseline sluggers will be sorely missed.