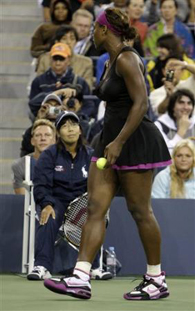 World number one Serena Williams has been fined a record US$82,500 and put on probation for two years her foul-mouthed tirade at the US Open. The two year probation is considered a light punishment compared to the initial speculations that Serena will face a ban for at least one Grand Slam event.
Grand Slam administrator Bill Babcock's ruling was released Monday, and he said Williams faces a "probationary period" at tennis' four major championships in 2010 and 2011. If she has another "major offence" at a Grand Slam tournament in that time, the fine would increase to $175,000 and she would be barred from the following U.S. Open.
"But if she does not have another offence in the next two years, the suspension is lifted," Babcock said in a telephone interview from London.
He said Williams has handed US$82,500 to the Grand Slam committee, the highest fine ever for a Grand Slam offence. Despite the fine being at record levels, one must consider the obscene amount of money tennis stars racked in per annum nowadays. The American tennis diva earned US$350,000 for reaching the U.S. Open singles semifinals alone. Not to forget that her amassed prize money for 2009 is US$6.5 million, a single-season record for women's tennis. This "paltry" fine means lose change to her, probably will only stop her buying a couple more designer bags.
Williams's outburst was prompted by an incident in her semi-final against eventual champion Kim Clijsters at Flushing Meadow back in September. Trailing 4-6 5-6 15-30, Williams launched into a second serve but the line judge called her for a foot-fault, meaning the American had served a double-fault to go match point down. Truth is, the video replays did prove that the line judge was indeed wrong.
However, an unwarranted reaction by Serena saw her launched into an expletive-laced rant at the official. She waved her racket in the lineswoman's direction and then shook a ball in her clenched fist as she threatened to "shove it down" her throat.
Having already received a warning earlier in the match for smashing a racket, Williams was handed an automatic point penalty for a second violation which abruptly ended the match, giving Belgian Clijsters a 6-4 7-5 victory.
Serena Williams is the only tennis player to have ever won three Grand Slam singles titles coming from match point down, that to us are indeed great escapes. But this? Maybe it's time for the line judge to file a suit against Serena Williams for post trauma and get a healthy chunk of the 11-time Grand Slam champion's wealth. That will be justice well served.