Usually, we do not pay any attention to tennis tournaments outside of the four Grand Slams, but the China Open in Beijing, a mandatory Premiere event was set to be a showdown for the two top-ranked ladies for the converted number one ranking.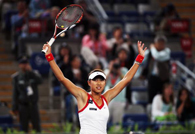 Chinese wild card 226th ranked Zhang Shuai after defeating Safina
The soon-to-be dethroned world number one Dinara Safina has been stung a string of bad losses recently. Safina's second round exit of the China Open to Chinese wild card 226th ranked Zhang Shuai 7-5, 7-6 (5), has set a new WTA record for the worst loss ever for a reigning world number one.
"I woke up this morning feeling really excited, but didn't do any special preparation and never expected to win the match," said Zhang.
Zhang Shuai, 20, had won her first WTA main draw match of her career in the first round on Sunday. "I wasn't thinking about the result, I was just thinking about learning as much as I could from her," she said. "She was not on her best form, she was impatient and made lots of mistakes."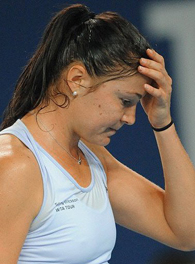 Safina had a nightmare with her serve as she committed 13 double-faults and began shouting and growing distraught toward the end of the match before leaving the centre court in tears. Her post-match news conference was cancelled.
Just last week, Safina lost her opening match at the Toray Pan Pacific Open to 18-year-old qualifier Chang Kai-chen of Taiwan. These uncharacteristic losses adding to her shocking third round exit at the US Open has allowed Serena Williams a chance to reclaim the number one ranking, if she wins her second round match against Russia's Ekaterina Makarova today.
The Russian has been going deep into Grand Slams and winning big tournaments outside of the majors to earn her top dog status. Her recent dip in form is alarming. Is she incapable of handling the pressure of being hunted? Sure, she did well enough to hunt for the top-spot, but she has done nothing to justify occupying the pinnacle spot in the sports.
Dinara Safina along with Serbia's Jelena Jankovic are clearly the worst performing players ever to be ranked one. Can we blame their poor portfolio on inconsistency, lack of mental strengths, injuries or just bad luck?
"I'm just having some bad losses right now," the Russian said in a statement released by organisers.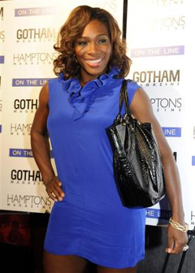 "So many matches that are very close, ones that I should win, having set points or match points every time. It's very disappointing. I would like to take a break now, and I'm very upset with myself."
And now the pressure will be on Serena Williams who made a stuttering start with an error-strewn 7-5 6-4 win over Estonian Kaia Kanepi in the first round of the China Open. Let's see if our mean girl, Serena Williams can win her second round match today. Her form outside of Grand Slams are just terrible, as her focus is clearly only on the big four trophies for most part of her career.