11 times Grand Slam champion, Serena Williams who lists acting as a hobby certainly did not need to rely on a script to produce the single biggest drama yet to be witnessed at this year's already dramatic US Open.
Serena's U.S. Open title defense ended in an ugly fashion Saturday night, when she was penalized a point on match point after yelling and shaking her racket in the direction of an official who called a foot fault.
In a highly anticipated match that was delayed by 33 hours due to bad weather Serena Williams lost to unseeded, unranked Kim Clijsters 6-4, 7-5. The quality of tennis was high, but was certainly shaded by Serena's foul outbreaks of temper.
With Williams serving at 5-6, 15-30 in the second set, she faulted on her first serve. On the second serve, a line judge called a foot fault, making it a double-fault—a call rarely, if ever, seen at that stage of any match, let alone the semifinals of a Grand Slam tournament.
That made the score 15-40, putting Clijsters one point from victory.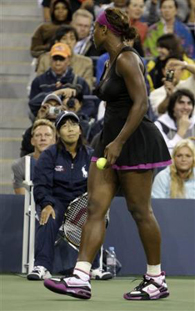 Instead of stepping to the baseline to serve again, Williams went over and shouted and cursed at the line judge, pointing at her and shaking a ball at her.
"If I could, I would take this … ball and shove it down your … throat and kill you," Williams said.
The lineswoman went over to the chair umpire, and tournament referee Brian Earley joined in the conversation. Williams then went over and said to the line judge: "I didn't say I would kill you. Are you serious? Are you serious? I didn't say that."
Williams already had been given a code violation warning when she broke her racket after losing the first set. So the chair umpire now awarded a penalty point to Clijsters, ending the match.
"She was called for a foot fault, and a point later, she said something to a line umpire, and it was reported to the chair, and that resulted in a point penalty," Earley explained. "And it just happened that point penalty was match point. It was a code violation for unsportsmanlike conduct."
When the ruling was announced, Williams walked around the net to the other end of the court to shake hands with a stunned Clijsters, who did not appear to understand what had happened.
"I used to have a real temper, and I've gotten a lot better," Williams said in her postmatch news conference. "So I know you don't believe me, but I used to be worse. Yes, yes, indeed."
Perhaps shaded by the theatrics was Clijsters' significant accomplishment: In only her third tournament back after 2 1/2 years in retirement, the 26-year-old Belgian became the first mother to reach a Grand Slam final since Evonne Goolagong Cawley who won Wimbledon 1980.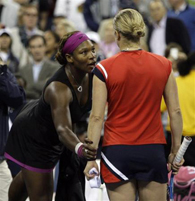 Clijsters hadn't competed at the U.S. Open since winning the 2005 championship. Now she will play for her second career major title Sunday against No. 9 Caroline Wozniacki of Denmark, who beat Yanina Wickmayer of Belgium 6-3, 6-3 in the other rain-delayed women's semifinal.
The last time a singles player suffered such an ignominious exit from such a high profile match was when John McEnroe was defaulted from a fourth round match against Mikael Pernfors at the 1990 Australian Open; when he swore at the umpire, supervisor, and referee .
At the post match press conference, Serena remained unrepentant for her tirade even though the lineswoman told the chair umpire that she felt threatened.
"She says she felt threatened? She said this to you?" she asked the reporter who fielded the question.
"I've never been in a fight my whole life, so I don't know why she should have felt threatened."
To be honest, this is hardly the first time the American diva has been starring in such controversial on-court drama.
"I'm drama, and I don't want to be drama," Williams said in May at the French Open where she labelled Maria Jose Martinez Sanchez "a cheat" following a controversial point in their third round match.
"I'm beginning to think it's me because I do have a lot of drama, and it's always something, whether it's my life with friends, with anybody. It's like I have the most dramatic life. It's so ridiculous."
In 2003, a sobbing Williams accused another Belgian Justine Henin of "lying and fabricating" following another controversial semi-final defeat at Roland Garros.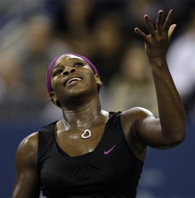 "
That girl's" latest on-court drama on Saturday night certainly tops a rain ruined Super Saturday!
In 2004, at a quarter-final match at the US Open against fellow American Jennifer Capriati, Serena was on the receiving end of several bad line calls which lead to umpire Mariana Alves, who made the incorrect overrules to be removed from officiating duties from the championships that year while U.S. Open officials apologised to Williams.
"Every time you look around, it's like I mean, there was an incident with Justine, and then there was another incident with Jennifer Capriati. Always some drama," Williams said in May.
"Even in Australia this year I had a bad call, and I was just like, why?
"I'm like one of those girls on a reality show that has all the drama, and everyone in the house hates them because no matter what they do, drama follows them. I don't want to be that girl."
As talented as Serena is, she needs to walk out the shadows of "that girl" to fulfill her true potentials. For now, who's that girl? No one could believe that Serena Williams who is already considered a tennis legend would pull off such an unprofessional act.

Not even when we know that the (incompetent) lineswoman was wrong. Think "that girl" will live to regret this moment.