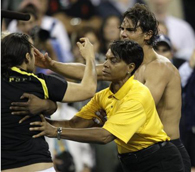 Spotted today at the US Open was a fan who ran onto the court to give world number three, Rafael Nadal a kiss, after the Spainish hunk won a physically grueling match over France's Gael Monfils.
This incident took place at Arthur Ashe Stadium court, the world's largest tennis stadium when the Spaniard was returning to his chair having removed his shirt when the male fan put his arms around the former world number one and planted a kiss on his cheek.
Security staff bundled the fan away quickly while a smiling Nadal appeared unruffled by the incident.
Footage of the incident starts at 1.00 min in this clip.
Q. What did you think when the man came out of the stands and came up to you?
Rafael Nadal: No, for me it wasn't the problem. The guy was really nice (laughter.)
Q. Did he say anything?
Rafael Nadal: Yes. He was a great fan. He said, I love you, and he kissed me. (laughter.)
Q. Was he speaking Spanish?
Rafael Nadal: No, in English, but I understand that. (laughter.)
"The man has been arrested and it is now in the hands of the NYPD and we will be reviewing the footage to see whether security needs to be strengthened," USTA official Tim Curry said.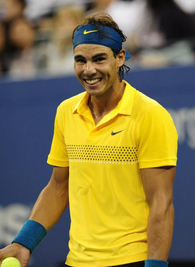 The initial reactions were fears of a "Monica Seles stabbing" incident that took place in Hamburg in 1993, when a Steffi Graf fan decided to intervene. This should not be too far from imagination as Nadal would displace Andy Murray as the second ranked player in the world after the US Open.
Croatian 16th seed Marin Cilic produced a dominant display to beat Andy Murray 7-5 6-2 6-2 and sent the world number two crashing out at an earlier fourth round match. As a result, the Scot would relinquish his number two ranking to Nadal.
Here's hoping that this kissing incident would be Rafael Nadal's good luck charm at this year's Open. Afterall, Roger Federer did went on to take this year's French Open when a fan rushed on to the courts to put a hat on the Swiss.
Kissed by a gay angel?