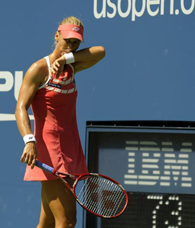 Tired Dementieva must be wondering if she is past her date for her first Slam.
The leading ladies from Eastern Europe are under siege at the 2009 US Open. Pre-tournament favourites fourth seed Elena Dementieva from Russia and fifth seed Jelena Jankovic from Serbia were victims at the hands of two young talents.
The first major upset was when 17 year-old American sensation Melanie Oudin shrugged off a sore left leg to stun 2008 Olympic Champion Elena Dementieva 5-7, 6-4, 6-3. The Russian was the winner of the US-Olympus series and many has considered this US Open as her best chance to win her first Slam.
"For sure it was disappointing. I was hoping to play very well," Dementieva said. "She had a very good answer to me on the court. She was really playing at her best."
The "nearly" lady of tennis, Dementieva felt that she felt tired after playing too many tournaments leading up to the US Open. This is the earliest US Open exit by the Russian since 2002, sent off by a 17-year-old American with "believe" written on her pink and yellow shoes.
"I just played with no fear," Oudin said. "I just went out there and played my game and I came out with a win."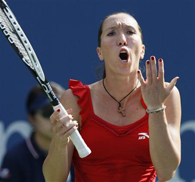 G
rief-stricken Jankovic was in fine form before the death of her grandmother.
The second major upset was under much different circumstances. Grief-stricken fifth ranked Jelena Jankovic was mourning the death of her grandmother Wednesday night and unable to focus, as the 2008 US Open runner-up slumped to a 6-3, 6-7 (4/7), 7-6 (8/6) loss to Yaroslava Shvedova, a 20-year-old Kazak ranked 55th in the world.
"My head wasn't really there. It was like a shadow of myself," Jankovic said. "I tried to think about my tennis but I felt like I was so late and so slow. I was really suffering.
"There are more important things in life than tennis. When you think about it, this is just a small event compared to somebody in your family who dies."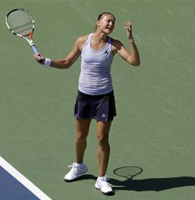 Should I join Marat and head home?
In top half of the draw, top-ranked Dinara Safina continues to struggle with long topsy turvy three set matches that further questions why she is holding the world number one ranking.
Safina, who is desperately seeking her first Slam title, rallied to beat 67th-ranked German Kristina Barrois 6-7 (5/7), 6-2, 6-3. The Russian made 38 unforced errors and double faulted 15 times but endured a roller-coaster day to advance. This is after a first-round narrow escape against Australian teen Olivia Rogowska, where Safina lost the first set and went down an early break in the third.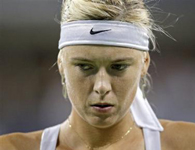 Is Maria feeling the heat?
And I suspect Russian multiple Grand Slam champions Maria Sharapova and Svetlana Kuznetsova who have been cruising through their first two rounds are feeling the stress as Flushing Meadows favorites began to fall at Arthur Ashe Stadium.
"You do sense it," Sharapova said. "I saw some of the tough matches. You don't want to be that person."
While second seed, Serena Williams must be relieved to see Dementieva go, considering the tight matches the two have had in recent times, the American diva certainly wants to play Spain's Maria Jose Martinez Sanchez on her home ground in tomorrow's third-round match.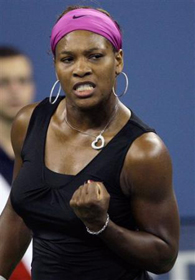 It's payback time you cheat!
The unheralded Martinez Sanchez bagged an ill-tempered opening set off Serena Williams at a round three match at this year's French Open after a controversial shot which appeared to have bounced off her arm.
Serena will certainly place extra venom in every stroke that she hits; this promise to be a very entertaining grudge match.
The entertainment for this edition of the US Open is certainly from the women's side.