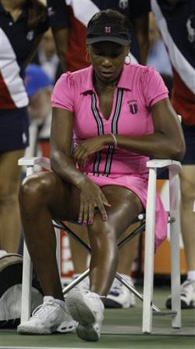 It's never good to be grabbing the headlines in the first week of a Grand Slam event. For seven-time Grand Slam champion Venus Williams, she was quite close to losing in the U.S. Open's first round for the first time, Williams came all the way back from a set and a break down to beat 47th-ranked Vera Dushevina of Russia 6-7 (5), 7-5, 6-3 on the first featured night at the Arthur Ashe stadium.
A stark contrast to other top players like Roger Federer, Serena Williams and Kim Clijsters, who all hardly broke a sweat to secure spots in the second round.
The No. 3-seeded Williams, twice the champion at Flushing Meadows, had her left knee bandaged by a trainer after the third game. Subsequently, the American had plenty of trouble serving as she racked up 10 double-faults and was called for seven foot-faults.
Knee problems or not, Venus proved yet again that she is a fighter on this night. Dushevina broke for a 3-1 lead in the second set and was three points from winning at 5-4.
"Next few points," Dushevina said, "she played great."
That is true: Venus Williams, who never has lost in the U.S. Open's first round, won the next seven games.
Still, there was a bit of shakiness left. Up 4-0 in the third set, Williams dropped three games in a row before righting herself once again to prevent what could have been the greatest upset of day one.
Even though Williams scrapped past the unknown Russian in the end, this 2-hour, 43-minute match did pose some huge question marks on Venus William's campaign at this year's US Open and indeed her career in general.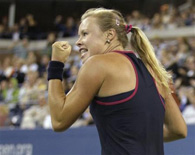 Dushevina's happiness after she won the first set was short-lived.
For a woman who honed her tennis skills on hard courts in California and Florida, the US Open has been heartbreak hotel for Venus Williams since 2001. Venus won back-to-back US Open titles at the start of the decade, beating fellow American Lindsay Davenport in 2000 and her younger sister Serena in 2001.
As she approaches her 30th birthday, Venus has limited chances to hold up the trophy again. As great as she's been on grass, her U.S. hard-court play has been mediocre since the titanic match against Kim Clijsters at the 2003 Wimbledon semi-finals, where she tore her abdominal muscle and had to lay off tennis for six-months.
Since then, she's won only two outdoor hard-court titles, both outside of the U.S. -the 2008 Sony Ericsson WTA Championships and 2009 Dubai. Her last American hard court title was New Haven back in 2002.
No one is more surprised with the barren run than the world number three herself.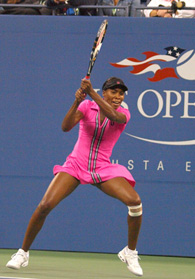 "Totally, but what can I say?" Other than that things have gone pretty well. I'm grateful for all my good results and I've learned from my losses. I definitely want to move forward," Williams said.
While she may have taken her Wimbledon tally to five singles titles, there is a worryingly feel that the American superstar is on borrowed time. No doubt, Venus is still fast and powerful, she has trouble blowing her opponents off the court from the baseline. Her star is certainly fading, fast.
The elder of the two Williams sisters must bring her A-game back on if she wish to get past her potential fourth round opponent, comeback mother Kim Clijsters.
Watch out for Venus Williams with a bulky tape job to be on her left knee, the same one she had during Wimbledon. That will probably help her, a lot.