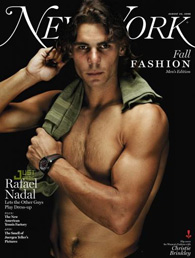 It must have the worst 10 weeks Rafael Nadal had to endure when he lost his chance to defend his French Open and Wimbledon title. To add salt to injury, the Spaniard is now relegated to world number three after spending fours years inside the top two positions.
The good news is that Nadal has recovered from tendinitis in both knees and he appears to be progressing so well that he could be back at peak fitness for the US Open, according to a sports injury specialist at the University of California.
Nadal made his return at this month's Montreal Masters where he fell in the last eight to Juan Martin del Potro (world number six) but went one round better at the Cincinnati Masters, losing in the semi-finals to Novak Djokovic (world number four).
Upon his return to the game, the signs of rustiness are little and have been eradicated by now. Observers are pleased to see Nadal playing with even more "game strategy" than before. There are times where he chooses not to run down balls which he normally would. Perhaps this would slightly disappoint fans for the reduced entertainment values, but for Nadal, this is a smart move to ensure his longevity as a top-notch tennis player.
The pain had gone and he said the result was even better than he hoped for going into the final Grand Slam of 2009 starting on August 31, the only one to elude him.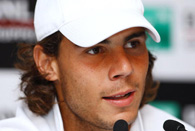 "Nadal is a younger player so he certainly has a bigger capacity to heal," said Anthony Luke, an associate professor and director in Primary Care Sports Medicine at the University of California, San Francisco.
"He's definitely competitive which is a great sign," he added. "I do think he has a chance to be at his peak at the US Open and his rhythm and performance should continue to improve as long as the knee doesn't give any setbacks (for best of five-set matches)."
The injury Nadal was made to go through was clearly due to the hectic schedule as he plays way too many smaller tournaments, especially during the tight clay court season. Perhaps he should adopt the Williamses and now Federer Slam-only mentality.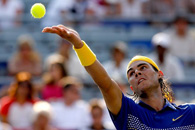 Afterall, he could have at least won seven or eight Grand Slam titles by now at a grand old age of 23 at this stage if he had cut back on smaller tournaments after winning the Australia Open at the beginning of this year. No use crying over spilled milk here.
Revenge is best served cold. Rafael Nadal can certainly inflict serious damage on Federer now by winning his first US Open this year. Nadal can ruin Federer's attempt to win a record six US Open in a row. It will for sure underline Nadal's dominance over Federer in Grand Slam battles. Rafael Nadal will become just the sixth men to earn a complete Grand Slam collection. And not to mention he can kick the slightly over-rated Andy Murray back down to number three.
It may sound like wishful thinking for Nadal, whose best performance at the US Open was the semi-finals so far, but he proved the critics wrong as he stormed through the draw for his first Australia Open early this year.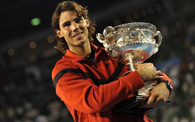 Spotted yesterday at a charity event on a makeshift court on Broadway in the middle of Manhattan was a mock match between Serena Williams and Rafael Nadal. They showed off the Nike outfits they'll wear during the day at the Open: a hot pink dress for Williams, a bright yellow shirt with teal headband for Nadal.
"Well, I am No. 3 in the world. And the No. 3 in the world should have a chance to win, no?" Nadal said yesterday. "But I don't know if I arrive in best condition."
"It's very special. I've won the other three, so if I win that it's going to be a complete cycle," he said. "It will be amazing."
Let's hope yellow is a lucky colour for Rafa.