It is mandatory to wear an outfit that is fundamentally white in colour at the only Grand Slam that is played on grass. Wimbledon 2009 is proving that with a uniform colour, tennis superstars put in an even greater effort to bring out their individualistic styles. Here are some of Fridae's favourites.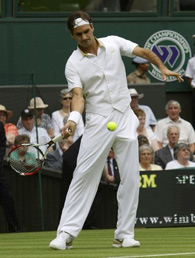 Roger Federer

The walk-in of the greatest champion ever: Roger Federer's warm-up suit
A shift towards the more traditional outfits that one would expect at Wimbledon, Roger's warm-up jacket is inspired by a jacket in the Nike Sportswear line, the M-65. It's a modern interpretation of a classic military silhouette from 1965. The intricate hand crafting and engraved zipper pulls provide Roger with a clean, understated look as he walks on and off court.
Despite having some shades of Maria Sharapova's dress-cum-tuxedo waistcoat from Wimbledon 2008; Federer's long trousers look is more appealing and highly befitting of the 15-times Grand-Slam Champion. Roger Federer's clean, classic style is an ideal match for the traditional look and feel of Wimbledon.
The best male tennis player ever looks very good to break more records in the coming years. Let's hope his impending fatherhood will not make him look more sloppy.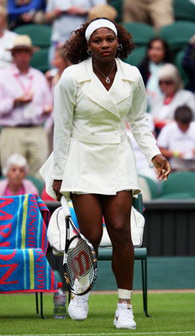 Serena Williams

Most mistimed warm-up outfit: Serena's trench coat
Serena Williams' outfit for the 2009 Wimbledon is extremely plain, extremely white, and in many regards, extremely boring for a self-professed fashion enthusiast like Serena. The small colored piping around the edges of the dress and on the logo adds the slightest hint of interest.
However, the 2009 ladies champion's trench coat adds much needed interest her outfit: the coat adds the right amount of "formalwear," in keeping with other champions at the event—and, of course, her handbag adds some femininity. It would seem ideal for the 11-times Grand-Slam champion to spot the trench coat for the usually rainy London: only for poor Serena to experience the hottest summer yet.
The tennis diva proved once again that if she sets her mind to playing tennis, she is able to overcome just about anyone. Oddly, it has been observed that should she turn up in a fancy on-court outfit, she usually will be bundled out. Hence, the plain and boring dress has helped her in this year's Wimbledon.
Blink and miss: Maria Sharapova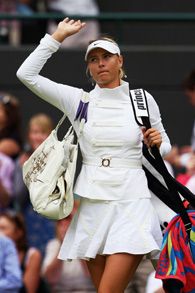 Maria Sharapova

As always, Russian superstar Maria Sharapova's customized Nike outfits are jammed with details. The Florida resident adorns a "Majorette" look at this year's Wimbledon; this dress is attractive on the tennis court with its subtle detailing, interesting lines and hint of color. The halter neckline and subtle green detailing (to match the grass courts of Wimbledon, of course) gives unusual depth to the outfit.
Also, Maria is spotted with a pair of Tiffany earrings which completes the sophisticated ensemble.
However, Fridae's style gurus feel that it is Maria's warm-up jacket that is the most thoughtful item at the 2009 Wimbledon. The structured old world Russia military style jacket provides a striking counter-balance to the free form of the dress.
Sharapova's second consecutive unexpected short appearance at Wimbledon is certainly disappointing as her outfits certainly deserve more air-time.
The Scotsman with a pinch of style … at last: Andy Murray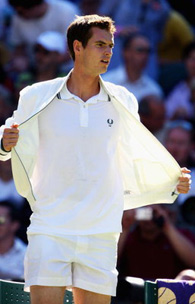 Andy Murray

Almost unexpectedly, the Scot upped his game in the style stakes with this mature outfit in order to echo the last British Wimbledon champion and his clothing's brand name, Fred Perry.
The jacket is somewhat associated with what only Roger Federer could pull off. Yet with all the attention surrounding Murray this year, the sophistication does not look out of place.
Also, Murray debuts wearing a collared polo t-shirt coded with subtle detailing complete the nostalgia and tradition look.
His semi-finals lost to American Andy Roddick says a lot about Murray's approach to tennis, fashion and to an extend, life in general as well: the Scotsman holds way too much back when he is being pushed, the lack of initiatiive has cost him a chance to earn his maiden Grand Slam title.
Smart twist of tide: Jelena Jankovic
The Serbian kept to basic shapes and lines: straight spaghetti straps. A nice change up from the many halternecks and criss-cross styles that we have been seeing at Wimbledon over the last couple of years in the female game.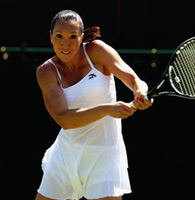 Jelena Jankovic

A clever move from the diminishing tennis star in the fashion stakes, pity about her tennis game though.