Last Saturday's ladies final match at the recently concluded Wimbledon was certainly far from the best display from the Williamses. An injured Venus or simply an inspired Serena, who knows? If the match-up between the sisters failed to entertain, then the post match interviews would have more than made up for the "quiet" match.

The 2009 Wimbledon ladies champion, Serena Williams was asked a series of questions about being ranked number two in the world behind Dinara Safina, a player who has never won a Grand Slam.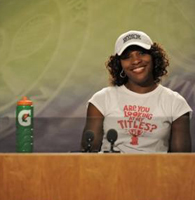 Serena attempts to make up for the "quiet" match at her victory conference

The American tennis diva, who has won eleven Grand Slam singles title so far, is a current holder of three of the four major titles in the sport, yet she remains ranked behind Russia's Safina, who has been in some embarrassing lop-sided losses at Grand Slams despite holding the top spot in the rankings.
Safina, a finalist at the Australian and French Opens in 2009, has constantly had to defend her status but she did herself no favours when she was walloped 6-1 6-0 in the Wimbledon semi-finals by Venus Williams. According to WTA records, the result was the most lopsided win over a current world number one at a grand slam event.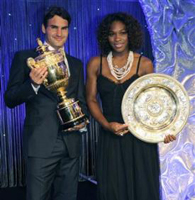 Wimbledon champions Roger Federer, left, and Serena Williams pose together during the Champions Dinner at the Hotel Intercontinental, in London
So can you blame Serena for having yet another tongue lashing session at the current world number one, Diana Safina? Or shall we say it was the brilliance of the French journalist that has lured Serena into revealing things that should be kept in her head?
"I think if you hold three Grand Slam titles maybe you should be No.1, but not on the WTA Tour obviously, so... You know, my motivation is maybe just to win another Grand Slam and stay No.2, I guess. I'd rather definitely be No.2 and hold three Grand Slams in the past year than be No. 1 and not have any."
And Serena tried to back-paddle her verbal attack but failed even more.
"I think the girl, Dinara, who is No.1, you can clearly see by her physique how hard she works. You can't get anywhere by not doing the best and not working your hardest. So, you know, I'm happy for her, (but) I'm really excited that I won Wimbledon, though, because, like I said, I'd rather win that than not win the Championships."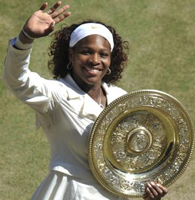 With her 11th Grand Slam singles title, Serena remains ranked no.2 despite her spectacular performance over the past 10 months.

"I think Dinara did a great job to get to number one - she won (non grand slam titles in) Rome and Madrid," Serena joked and burst into a hysterical laughter.
Watch the video with the link at the end of the article, it's worth several giggles.
In his last address as WTA chief, Larry Scott defended the system.
"The ranking system is designed sort of around king or queen of the hill - who is the strongest, most consistent performer over the year," he said.
"While I know it does stir debate, the one place it doesn't stir a debate is in the locker room. The players believe in that ranking system."