The first of the two Wimbledon ladies semi-final between world number two Serena Williams and fourth ranked Elena Dementieva was simply electrifying. At two hours 49 minutes it was the longest women's semi-final at Wimbledon since the start of professional tennis in 1968. It was also, by some distance, the finest women's match at the 2009 Championships so far. Perhaps the most intense ladies match-up since the 2005 final?

The Russian starlet is well known for her deadly accurate powerful groundstrokes and er, her whacky serve throughout her long 11 years on the tour. Having served an average of one double fault per game prior to the semi-finals, few would imagine Dementieva to come out on centre court to put on such a strong display of a much beefed-up serve.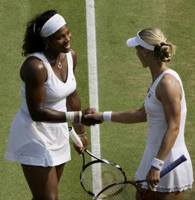 This was the only time Serena was actually similing throughout the epic encounter

Throughout the tense encounter, the 2008 Olympic champion had the American tennis diva on the ropes: pressure that Serena has certainly not seen in this tournament, or indeed for a long while.
But, the champion that Williams is, the response was there in the end, four games after she had fought off that match point with one of the most outrageous slices of good fortune, a forehand volley winner off the top of the net.
Before the match Serena's father and coach, Richard Williams, had opined "Serena is hitting like a man", and his daughter proceeded to fulfill that comment with her every shot, her every serve and her astonishing stamina under pressure.
However Serena's footwork and groundstrokes were often mistimed to handle those flat powerful strokes from the Russian for most part of the match. In the first set, Dementieva saved four break-points when she was 0-40 3-4 down, it was clear then that expectations of another straight-sets victory for Serena should be binned. In fact, the Russian had chances to seal victory in straight sets when she earned two break points which would have given her a 5-3 lead and left her serving for the match.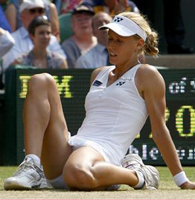 Elena Dementieva will take a long time to erase this narrow defeat from her memory - if ever
Regardless, with some lucky shots and a slight change in tactics, Serena ran away with the second set. The 10-times Grand-Slam champion started to retrieve more balls back by using more slices.
Those expecting Elena Dementieva to have a melt down in the third set were to be disappointed as Serena literally screamed and chased down every ball to grab victory from an in-form player. This titan tussle will go into the record books.
The only previous women's singles semi-final to have stretched past two-and-a-half hours was the 1994 battle between Conchita Martinez and Lori McNeil. This semi-final between Serena Williams and Elena Dementieva who went toe-to-toe and grunt-to-grunt for 169 absorbing minutes, beating that previous mark by 14 minutes will be un-rivaled for a long time.
Either girls deserved the win, but at the end of the day, Serena was once again too tough mentally. The American diva mentioned that she feels like an animal when she is on a tennis court and boy did she put on a beastly display to put her inspired opponent down!
Hope she can recover in time for Saturday's final as she faces a very fresh and in-formed Venus Williams.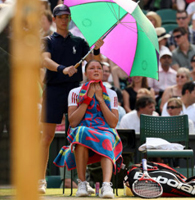 A helpless looking Dinara Safina

The second semi-final match-up between Venus Williams and world number one Dinara Safina could not be more contrast. Two-time defending champion Venus Williams gave the top-ranked Russian a grass court lesson on the biggest stage in the tennis world.
Venus destroyed Dinara Safina with a scoreline of 6-1, 6-0 in 51 minutes. Oddly, the organizers rushed to start the match even though they had the roof to hold a late night match. Half of the Centre Court's 14,000 spectators headed out for the refreshment after the best part of three hours watching the first semi-final. Those who had drinks would miss the first set which was over in just 27 minutes and for those who ate, would probably have missed most of the second set.
An elegant display from Venus Williams exposed the poor movements of Dinara Safina on grass and also showed the world that she is indeed the best female grass court player in the world. Safina could not hang her head any lower during the brief 51 minutes encounter.
The applause, even for a popular champion, was merely polite and Venus' response was similarly muted. It had all been embarrassingly easy.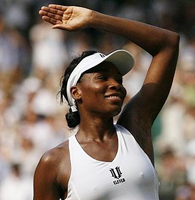 Venus to be the first player since the great Steffi Graf to win three Wimbledon titles in a row? Looks likely.
Perhaps the ranking system needs to place more emphasis on Grand Slams to avoid another "Safina" or Jankovic", world number ones who have yet to win a Grand Slam. Victories at such big stages does make a player world number one.
Saturday's ladies final will be between the Williams sisters, who have played 20 times before, and the series is tied, 10-10. They are 2-2 on grass, with Venus winning in the 2000 Wimbledon semifinals and the 2008 Wimbledon final and Serena winning in the 2002 Wimbledon final and 2003 Wimbledon final.
They are 1-1 this year, with Venus winning in the Dubai semifinals and Serena winning in the Miami semifinals. Perhaps the only relevant head-to-head lead is Serena's 5-2 edge in Grand Slam finals, although Venus won their last one.
Venus to be the first player since the great Steffi Graf to win three Wimbledon titles in a row? Looks likely.