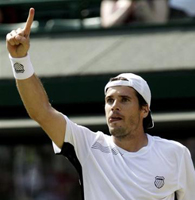 Haas a shock semi finalist at Wimbledon 2009

Perhaps the only upset so far in this very predictable edition of Wimbledon: 31-year-old Tommy Hass, seeded 24, over-powered fourth seed Novak Djokovic 7-5 7-6(6) 4-6 6-3.to reach his first Wimbledon semi-final at his 11th attempt.
The German veteran former world number 2 put on a display of powerful serving and stunning volleys to put out the tentative Serbian. 22-year-old Djokovic, seeded fourth, looked nervous from the start and rarely took the initiative throughout the quarter final match-up.
"It's unbelievable. I have no words for it. I am playing some of my best tennis right now," said an overjoyed Haas after recording the biggest shock of the men's tournament so far.
Highlights of the match included an engrossing second set tiebreak, where Djokovic had three set points to draw level but a confident Haas fought back from 6-3 down to take a comfortable lead.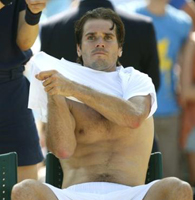 31-year-old Tommy Haas looking hot during a changeover

"That was huge and maybe the key to success today. I said to myself - Wake Up," said Haas, a former world number two whose career has been blighted by injury.
Haas will play world number two Roger Federer for a place in Sunday's final, after he beat serve monster Ivo Karlovic 6-3 7-5 7-6(2).
"I think he has, even in the next match (against Federer), he has good chances if he serves well. He just needs to keep his consistency." Djokovic said graciously.
Hass will have an uphill task to beat Roger Federer, who leads 9-2 in their previous clashes but Haas did take him to five sets at this year's French Open.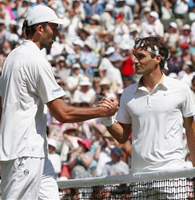 Karlovic's height did him no favours with Federer

"I am going to give it my best shot. There is not much this guy cannot do," Haas said. "I am going to try and go out there and see if I can annoy him a little bit and go from there."
Time to update the record books?
Five-times Wimbledon champion Roger Federer took the sting out of Croatian Ivo Karlovic's venomous serve to win 6-3 7-5 7-6(2) and book his place in a record breaking 21st straight Grand Slam semi-final at Wimbledon.
Karlovic's thunderous serve had not been broken at this year's Wimbledon but the Swiss maestro nullified the 2.08 metres player's key weapon. The Swiss mastero clinched the match with a thunderous forehand crosscourt winner after an hour and 42 minutes.
Federer looks ready to take out Haas in straight sets for a chance to earn his sixth Wimbledon title and fifteen Grand Slam singles titles, to become the undisputable best tennis player of all times.
(Wonder if Nadal will be watching this match with envy?)
The battle of two former world number ones


American sixth seed Andy Roddick brought former champion Lleyton Hewitt's Cinderella Wimbledon run to an end with an energy-sapping 6-3 6-7(10) 7-6(1) 4-6 6-4 quarter-final victory on Court One.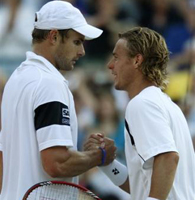 "Now we're just a couple of old married dudes, maybe we've grown up a little bit." said Roddick

The 27-year-old Aussie showed the determination and guts which won him the title at the All England Club in 2002. Hewitt refused to lie down, twice coming from a set down before the 26-year-old American finally ended his challenge.
"I think there's a lot of respect there, we used to get into it a bit when we were younger. I think we've earned each other's respect," Roddick said in a courtside interview.
"Now we're just a couple of old married dudes, maybe we've grown up a little bit."
The key moment of this thrilling three hour 50 minute five-set shootout was when Hewitt - roared on by the green and gold clad Fanatics on a sun-kissed Court One - saved three set points to take the second set tiebreak 12-10.
Roddick will play another Andy, third seed Andy Murray for a place in Sunday's final, after the Scot eased past Spanish wildcard Juan Carlos Ferrero 7-5 6-3 6-2.
National hero-to-be?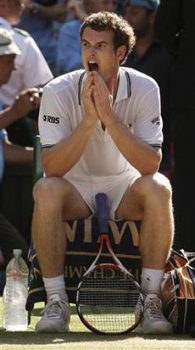 Murray is the first Britain since Tim Henman in 2002 to reach the semi-finals of Wimbledon
Andy Murray clinched a straight-sets victory over former world number one Juan Carlos Ferrero 7-5 6-3 6-2 to seal a place in the Wimbledon semi-finals for the first time.
Murray is the first Britain since Tim Henman in 2002 to reach the semi-finals of Wimbledon, having only previously progressed to this stage of a Grand Slam once before at last year's US Open.
The whole of England will be watching the battle of the "Andys" closely to root Andy Murray for a spot in Sunday's final. A chance to end 72 years wait for a "local" champion at the All England Club since Fred Perry in 1936.
The Scot to get into his maiden Wimbledon final in four sets?