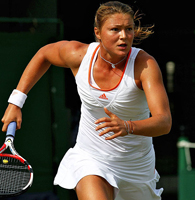 Is Safina allergic to grass like brother Marat?

Since the sudden retirement of Justine Henin last year, no fewer than five women had occupied the top spot - two of whom have never won a Grand Slam – including current world number one, Dinara Safina.
The top ranked Russian starlet has been to three Grand Slam finals so far: winning a mere total of 16 games in those three finals. While we can debate all day about her worthiness of the number one ranking: Safina should better her best third round performance at this year's Wimbledon.
World number three, Venus Williams must start favourite as she bids for the second time to become the first woman to win a hat-trick of Wimbledon singles' titles since Steffi Graf claimed three in a row from 1991 to 1993.
The last time, in 2002, she was thwarted in the final by her sister, and Serena Williams appears the one most likely to derail her Championship ambitions again. Venus won the ladies title here in '00, '01, '05, '07 and '08, while Serena in '02 and '03.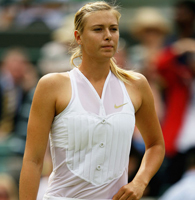 Comeback queen will be hungry this Wimbledon
For Venus who has the biggest serve in the woman's game, victory at the All England Club this year will bring her a sixth title – level with Suzanne Lenglen and Billie Jean King, Still, three short of leading lady Martina Navratilova.
The Williamses certainly owns the All-England club and hence it will take more than a brave pill to think anyone else in the ladies draw is capable of holding the Venus Rosewater Dish for 2009. Besides, Venus lost in the third round at Roland Garros in each of the last three years – and ominously for her opponents – went on to win Wimbledon.
Perhaps for the ladies draw, it would be more fun to see how well the 2004 Champion Maria Sharapova will progress. The Russian pin-up is on a comeback trail from a shoulder injury and has just been granted a 24th seeding for this year's Wimbledon despite her lowly 59th ranking. The All-England club reserves the right to ignore tour rankings when it comes to seeding the players.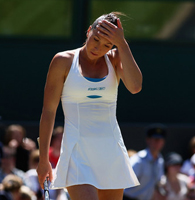 ]
It's unlikely to see the Serbs in the second week of Wimbledon.
Likewise, attention will be on newly crowned French Open champion Svetlana Kuznetsova who has reached the quarter-finals three times at the All England Club. Will she be overwhelmed by her second Grand Slam victory? Her shock second round exit at Eastbourne, a lead-up tournament to Wimbledon spells trouble for the fifth ranked Russian.
It's hard to believe that Serbians Jelena Jankovic and Ana Ivanovic were occupying the top two spots this time last year. Jankovic remains Grand Slam-less and lumbers at number six despite clinching the year-end number one for 2008. Her compatriot, Ivanovic, now ranked 13, had just fired coach, Craig Kardon after she failed to defend her French Open title. It's unlikely to see the Serbs in the second week of Wimbledon.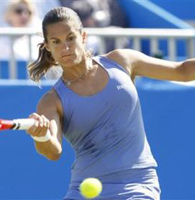 Will this be Amelie's last Wimbledon?

Lastly, the only openly gay active tennis player Amelie Mauresmo, seeded 17 will be hoping to go deep into the competition as she contemplates her future. The French serve and volley star was a champion here in 2006, defeating Justine Henin in an epic match.
Well, if the ladies fail to entertain with their tennis, we can certainly rely on their fashionable getups and grunting.