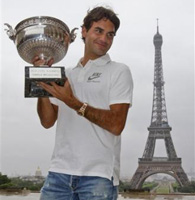 Federer's French open victory... luck and weak opposition?
Anyone recall last year's epic final between Rafael Nadal and Roger Federer? The greatest match of all time: perhaps the 2008 Wimbledon final was the pinnacle of an intense rivalry between the two modern tennis greats.
The recently concluded French Open saw an end to a golden era in men's tennis lead by the Rafael Nadal-Roger Federer rivalry, with two other leading men - Andy Murray and Novak Djokovic – fronting the field.
Now, the gentlemen's draw for the 2009 edition of Wimbledon could serve up surprises like 2003. The tennis landscape has changed so dramatically in a month that it may be wise to start with a blank slate.
Defending champion and world number one, Rafael Nadal finds himself without the French Open title for the first time in four years, nursing his troublesome knees that has kept him from defending his title at Queen's and facing a race against time to be fit for Wimbledon.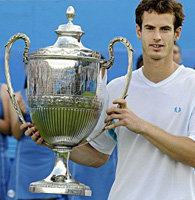 First Briton to taste victory on British soils since Henry 'Bunny' Austin in 1938
Latest news is that Nadal will warm up for the defence of his Wimbledon title at an exhibition tournament at the Hurlingham Club in London later this week - provided his recovery from a knee injury is going well enough. Here's hoping.
While arch rival Roger Federer is crowned with his first French Open and equalled Pete Sampras' Grand Slam record and there are plenty of people hailing him as the greatest ever, including, no less, than Sampras himself. But it's not hard to point out that luck and weak opposition had much to do with Federer's victory at the Parisian clay.
World number three Andy Murray has just become the first Briton to win the Queen's Club tournament – a Wimbledon lead-up tournament in London - without dropping a single set in 71 years. This victory ends the barren run of British winners that stretches back to Henry 'Bunny' Austin's victory in 1938.
Murray had been consistent enough this year to be considered the player most likely to break the Federer-Nadal duopoly. With four titles this year already, including two Masters Events, and a career-high ranking of three in the world, Murray stands a great chance to be a national hero at this Wimbledon. In the year of Fred Perry's 100th birthday, could Wimbledon have a British champion again since 1936?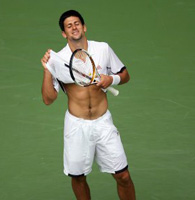 Djokovic wrote off his Wimbledon chances
Serbian Novak Djokovic has been competitive all year as he has beaten Federer twice this year and challenged Nadal on his natural home, clay. Unfortunately, the world number four has not been taking the trophies home. He wrote off his Wimbledon chances after slumping to a 6-3 6-7(4) 6-1 defeat to Germany's Tommy Hass in the ATP Halle grasscourt final, another warm-up tournament to Wimbledon.
The ones complaining that men's tennis was getting predictable should be pleased now. My job to predict The Championships in 2009 has just become impossible.