Close friends Dinara Safina and Svetlana Kuznetsova set up an all-Russian final in the French Open on Thursday.

It will be just the second all-Russian final at Roland Garros after the 2004 French Open when Anastasia Myskina (now retied single mother) defeated Elena Dementieva and it will be the 13th meeting between the two 23-year-olds with Safina ahead 7-5.

In hunt for her maiden title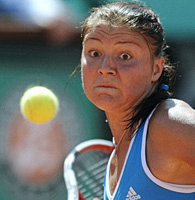 An unworthy world number one till Saturday?

Safina was not at her best but she still saw off Dominika Cibulkova of Slovakia 6-3, 6-3, while Kuznetsova needed to dig deep to stop Australia's Samantha Stosur.
Safina, who lost in straight sets in last year's final to Serbian Ana Ivanovic, is on a mission here to win her first Grand Slam title and silence those who say she is not worthy of being the world No.1 position until she has a Grand Slam under her belt.
The younger sister of tennis heart rob Marat Safin went into Thursday's semi-final has been nursing a sore throat for two days, but she still had too much firepower for Cibulkova who is playing her first Grand Slam semi-final.
The Russian started poorly and was 0-2 before she found her range and won the next five games against an opponent who at 1.61 metres stood a full 21 centimetres smaller than her.
Safina wobbled again at the start of the second set with a rash of double faults, but she dug deep each time to get herself out of trouble and then grabbed the vital break of serve she needed in the fifth game.
"It wasn't an easy match and I felt tight throughout," Safina said.
Cibulkova, who showed little modesty over her victory over Russia's Maria Sharapova in her previous match said she panicked on Centre Court.
"I think I got nervous, I made a couple mistakes and then I got in a panic," the 20-year-old said.
And there is the wounded tigress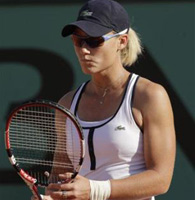 Samantha Stosur gave a good Aussie go, but still fell short

Kuznetsova, who lost the 2006 final here to Justine Henin, has been luckless at Grand Slams since the her lone major title at the 2004 US Open. The stocky built powerhouse is known for her erratic play during tight matches.
The seventh ranked Russian had a tough three set match against 25-year-old Australian Samantha Stosur, who overcame a break down in the second set to force a tie-break which she won from 1-4 down thanks to two magnificent forehand crosscourt winners.
In the decider third set, Kuznetsova managed a crucial three-game winning streak that put her in the driving seat. Two games later she served out for the win and the chance to pick up a second Grand Slam title.
Bold Predictions?
In the tournament climax, the two Russians will be playing in their third Grand Slam final and both are facing a career defining moment.
Safina needs to win her first Grand Slam to justify her number one ranking, while Kuznetsova needs to prove that she is not a one-slam wonder.
Some would say that Svetlana's 2004 US Open title was more luck than anything else. She benefited from a kind draw and not having to meet either Williamses or Sharapova during her run to the title.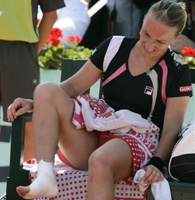 Ankle injury did not stop Svetlana to overcome the Great Serena Williams and brave Samantha Stosur

In my opinion, Kuznetsova deserves the 2009 edition of the French Open since she took out Serena Williams in an epic quarter-final (the best woman's match so far). She willed herself to overcome an ankle injury to blast past Serena Williams and her semi final opponent Samantha Stosur.
On the other hand, Dinara Safina has had a fairly easily route to the finals, with the exception of a close challenge from Victoria Azarenka in the quarters. The current world number one is in no doubt the fresher player between the two Russians.
Remember Safina's terrible play at her last two Grand Slam finals? She was mulled by Serena Williams at this February's Australia Open final. In spite of Kuznetsova's ankle injury, we do not fancy Safina's chances to break her Grand Slam duck. There seems to be a huge mental block during these big stages for the Russian world number one.
So, Svetlana Kuznetsova to take the 2009 French Open title in a topsy turvy tight three setter? Yes, and do stock up on the chips as plenty could be needed in what should be a roller coaster long drawn out match.