10-times Grand Slam champion, Serena Williams was on the losing end of an epic quarter final encounter with Russian world number seven, Svetlana Kuznetsova that lasted two hours and 47 minutes.

Serena, who was on an 18-match winning streak at the majors following her success at the US and Australian Opens, bowed out of the 2009 French open despite displaying her best form on clay yet for the past two years.


Svetlana was literally floored by Serena's thundering groundstrokes

Russian seventh seed Svetlana Kuznetsova held off a bold challenge by the American tennis diva for a 7-6(3) 5-7 7-5 victory to reach the French Open semi-finals for the third time.
In the most exciting women's match so far at the 2009 Roland Garros, the two rivals were toe to toe throughout the extremely tense affair where top-spin induced speed bombs were traded by the two similarly built players.
The mama of tennis leads the women's field for many things: power, Grand Slam titles, number of weeks spent at the number one spot and lastly, being the biggest sore loser. Serena refuses to credit her opponent by suggesting it was her lack of will and focus that caused her this heartbreaking loss.
"Honestly I think I lost because of me and not because of anything she did," Serena said. "In the third I had an opportunity and I got really tight, and I pretty much gave it to her. It was like, Here, do you want to go to the semis? Because I don't. She was like, Okay."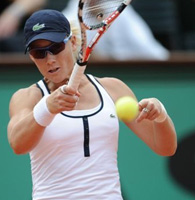 Stosur will be trying to become the first Aussie woman in three decades to reach the French Open singles final
Kuznetsova on the other hand seems to think otherwise as she believes she has put up an extremely good fight.
"In the second set, third set I was pushing myself to fight, and still she was break up. With her it's a big difference. She started to serve great, and I'm very proud that I pushed myself and I could fight in the third set. This gave me victory, because I fought until the end."
Prior to Wednesday's match, the two ladies claimed that they are friends and would exchange texts on their Blackberrys. Let's hope that the two stay friendly, otherwise expect further trades of spats, or worse, blows.
The Russian who was the runner-up at the 2006 Roland Garros will face 30th seed Samantha Stosur for a place in Saturday's final, after the Australian eased past Romanian Sorana Cirstea 6-1 6-3. Stosur will be trying to become the first Aussie woman in three decades to reach the French Open singles final.
25-year-old Samantha Stosur has led a charmed life over the past two weeks to reach the last four of a Grand Slam for the first time but things were very different in September 2007 when she was diagnosed with the energy-sapping illness Lyme's disease.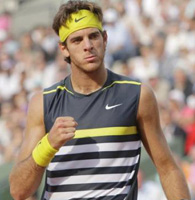 Bumble bee-like cutie Argentine fifth seed Juan Martin del Potro is through to his first Grand Slam semi-final

It's an incredible feet for the Australian considering that twenty months ago, she could barely climb out of bed or even lift a racket
"I guess I wasn't really thinking about Grand Slams or winning tournaments or anything like that at that stage. It was more just trying to get healthy and leave my apartment, basically," said Stosur.
On the man's quarter final matches, higher ranked players restored the order of things to put a stop to dramatic upsets at this year's Roland Garros World number two Roger Federer was back to his brilliant best as he eased past local favourite Gael Monfils 7-6(6) 6-2 6-4 to book his place in the French Open semi-finals.
The Swiss will play his 20th consecutive Grand Slam semi-final against Argentine fifth seed Juan Martin del Potro, who dispatched Spanish 16th seed Tommy Robredo 6-3 6-4 6-2.