Two of the three Russian ladies competing in the quarter-finals of the 2009 French open were battling out on the Parisian clay yesterday. Both Russian superstars made horrid starts to their matches: one went on to register a three set victory, the other fell in a one-sided demolition.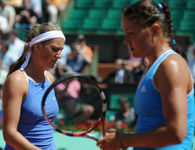 Safina was lucky to escape

World number one Dinara Safina recovered from dropping the first set to beat ninth seed Victoria Azarenka 1-6 6-4 6-2 as she remains in her desperate hunt for a maiden Grand Slam. Safina held her nerves as she overcomes the fact that she lost more games in that first set alone than the total number of games she lost in the entire first week of the tournament.
While former world number one, Maria Sharapova slummed to a shocking 6-0 6-2 to 20th seed, Slovak Dominika Cibulkova. The Russian three-time Grand Slam title winner, who has never been beyond the semi-finals in Paris, was playing just her second tournament following a 10-month lay-off to recover from a shoulder injury.
She had needed three sets in each of her four matches to make the last eight and the 22-year-old ran out of steam against an inspired Cibulkova, who is enjoying her best Grand Slam run.
"It took me a while to get going and create good opportunities to come to the net and finish the points," said Sharapova.
"But you can only ask your body to do so much. Everything fell short and the pace wasn't there. It all combined but she played really solid and I came up short."
Despite insisting that her loss is not due to any injury, Maria looks troubled physically in a one-sided match where she won only two games.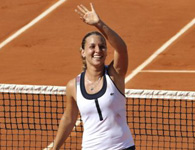 Cibulkova was not one bit modest about her victory
It could have been a lot worse as Cibulkova, the 20th seed, had a match point to complete a 6-0 6-0 humiliation before the Russian managed to put two games together to stop the rot.
Had she suffered a whitewash, it would have been Maria's second 'double-bagel' after she lost to Lindsay Davenport in the Indian Wells semi-finals in 2005.
.
Shockingly, Cibulkova was not one bit modest about her victory over her injury plagued opponent.
"It might be a surprising result for people who don't know me but I played solid from the baseline and didn't make too many errors," said the Bratislava girl.
"I knew that if I could make her move around the court I would have a chance."
Sharapova, whose world ranking slumped to 126 during her time off the tour, had won both her previous clashes against Cibulkova and both were on clay.
But Cibulkova, 11 inches (27cm) shorter than the glamorous Russian, was in complete control from the outset and claimed victory on a fifth match point when Sharapova put a weary return into the net.
Men's quarter finals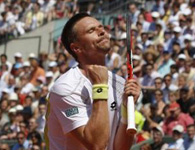 The beat goes on for the slayer of four-time defending champion Rafael Nadal, Robin Soderling

Swede, Robin Soderling responsible for taking down clay legend four-time defending champion Rafael Nadal, continued to show excellent form to hammer a 6-1, 6-3, 6-1 victory over Russian Nikolay Davydenko in the first men's quarter final match.
Soderling did not show any nerves after his monumental win over Nadal, disappointingly. He will play his first grand slam semi-final against Chilean 12th seed Fernando Gonzalez, who knocked out world number three Andy Murray in the second quarter final match-up.
Gonzalez credited his victory to his more extensive experience on clay.
"Andy, I mean, he's a great player. But he doesn't have enough experience maybe playing five sets on clay courts," said the Chilean, who has won eight of his 11 titles on clay.
"There is one thing I've always been convinced about, is that I win my matches with my serve and with my forehand. I can play well, but I win with those two shots, and that's what's happening at the moment."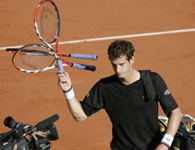 Andy Murray can't wait to leave clay courts

Now, should Roger Federer who will be playing Frenchman Gael Monfils today, loses his quarter final match, it will be the first complete white wash of the top four ranked men at a Grand Slam stage since the 2001 Australian Open. The 2009 edition of the French open has surpassed my expectations for drama and surprises.