Anyone recalls the semi-finals of the 2003 French Open, involving then defending Champion Serena Williams, who was on a 33-Grand Slam matches streak and Justine Henin from Belgium?

The retired clay demon claimed that she signaled to Serena as she wasn't ready to receive serve: prompting the chair umpire to overrule an ace from the American. In addition, over the course of the match, Henin manipulated the French crowd to turn on Williams.

Serena went on to lose to the match to Henin, who went on to claim her maiden Grand Slam at the 2003 French Open.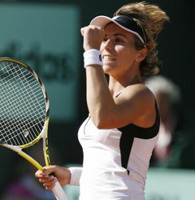 Martinez Sanchez insisted that the ball did not touch her body
Controversy struck again on the Parisian clay for the 10-times Grand Slam champion in her 4-6 6-3 6-4 third round defeat of Spanish Maria Jose Martinez Sanchez.
Unheralded Martinez Sanchez bagged an ill-tempered opening set after breaking in the fifth game with a controversial shot which appeared to have bounced off her arm.
"I didn't think the ball touched her. The ball did touch her 100 per cent on her arm," said the American second seed.
"The rules of tennis are when the ball hits your body, then it's out of play. You lose a point automatically. So the ball hit her body, and therefore, she should have lost the point instead of cheating."
"I hit that ball rather hard. She knew that ball hit her," she added.
Serena said she asked the umpire to ask Martinez Sanchez if the ball had hit her arm or her racket.
"I said, did you ask her? He said, 'Well, she's saying that it didn't happen'. I looked at her dead in the eye," the 2002 French Open champion said.
"I said, Why? Just be honest if the ball hit you or not. I mean, Hello. It totally hit her. She looked down, and I just have no respect for anybody who can't play a professional game and just be really professional out here."
Martinez Sanchez insisted that the ball did not touch her body.
"Well, I put the racquet, and the ball, it was in, so it goes point for me," the Spaniard said.
Williams went on to level the contest and her lying opponent eventually ran out of steam, bowing out after two hours 11 minutes on the first match point.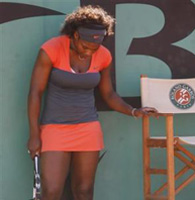 Serena had a big coughing fit during one of the changeovers
The American, who had a big coughing fit during one of the changeovers, said she had not been feeling well over the past four days.
"I've been fighting a cold and I've been fighting sickness, and I didn't have a voice at all yesterday," she said. "I thought I was going to cough up a lung or something. I had a lot of trouble catching my breath and trying to relax, and then just having energy going into that latter part of the third set."
Moral of this match: You do not mess with the Mama of tennis. Hopefully, this incident will spur the American tennis diva to claim a second French Open and stamp her authority over women's tennis once again.
Serena will next face Canada's Aleksandra Wozniak in a fourth round match for a place in the quarter finals.