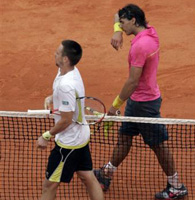 One of the greatest upsets in Grand Slam history
Remember the match where Rafael Nadal took five-days and five sets, in a rain-delayed epic at Wimbledon in 2007? Yes, I blame that man, Robin Soderling for being partly responsible for the Spaniard's defeat to Roger Federer at the SW-19 finals two years ago due to fatigue.
The 25th ranked Swede caused one of the greatest upsets in Grand Slam history on Sunday afternoon when he blew away world number one, Rafael Nadal 6-2 6-7(2) 6-4 7-6(2).
Rafael Nadal's hopes of becoming the first player, man or woman, to win the French Open five times in a row are dashed by the scintillating Swede, who played the game of his life.
After 31 consecutive match wins dating back to 2005, the Spanish eye candy notched his first-ever lost on the Parisian clay. Rafa's two closest rivals: Roger Federer and Andy Murray should be either preparing a victory speech in French now or shivering in fear wondering if they are next to be blitzed by the Swede's thunderous strokes.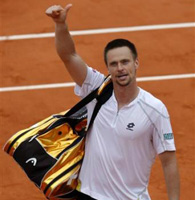 Soderling had never been to the fourth round of a Grand Slam before today
Playing the match of his life
Soderling was a revelation to watch as he ignored Nadal's legendary defensive capabilities and deploying a power game that left the great man scrambling, gasping for air and finally bowing his head in defeat.
The 25 year old Swede fired down nine aces and slammed innumerable forehand winners: including 27 booming winners at the net. Soderling converted five out of six break points and allowing Nadal only four, saving two of them, despite being taken to deuce 11 times.
"Rafa was too passive in his game the whole tournament," said his uncle and coach, Toni Nadal. "He was nervous and hit the ball very bad. He couldn't move well. Everything was wrong. He wasn't calm enough to be able to bring out his whole game. He was never calm enough to confront the situations he needed to face."
Nadal was far from his lethal best, but this was not a match that was gifted away by the out of sorts four-time defending champion. The Spanish world number one is too professional to take anyone lightly, let alone the man who took him through that epic roller coaster ride at the 2007 Wimbledon for five days.
Few could have predicted such a monumental upset before the match. After all, Soderling had never been to the fourth round of a Grand Slam before today. Besides earlier in April, Soderling managed all of just one game at Rome against Rafa.
Soderling was sober and sharp right from the start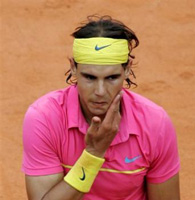 Nadal will swear off pink colour for life
Right from the outset it was blindingly obvious that this was not the same Soderling as in Rome. The Swede broke early to make it 3-1, served comfortably and then broke Nadal again at 5-2 before holding. The first set was pocketed by Soderling in a mere 34 minutes.
Nadal certainly raised his game, going for bigger shots to crack Soderling's game. He broke to lead 2-1 and served for the set at 5-4, only for Soderling to rip up the script once again with a brilliant backhand volley to break back. Resorting to a tiebreak where Soderling finally showed a few nerves and committed one unforced error after another. Nadal at last imposed himself, winning 7-2.
Again, that should have been the precursor for Nadal to cruise to victory, but the Swede continued to find the lines and blast his forehand to devastating effect. At 3-3, 30-40, he banged down a big return, wrong-footed Rafa and broke the champion again before serving out for 6-4.
And no mercy shown while closing the match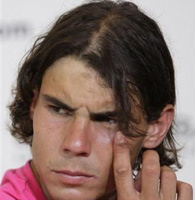 This is not a tragedy, losing here in Paris. It had to happen one day
While most onlookers expected Rafa to push the contest to five sets and outlast the Swede, but Soderling was hell bent on not hanging around for the decider despite the loss of his opening service game at the fourth set. Firing three enormous serves, at 4-5, 15-30 down to push Rafe to a tie-break where he thundered down yet more winners and unplayable serves to close the match out. Soderling has done what no one else has ever managed here at Roland Garros, beaten the great, the legendary Rafael Nadal to bring an era of Parisian clay dominance to an abrupt end.
"I played very short," Nadal said. I didn't play great. I didn't play with calm at any time during all the match. That makes him easy to play at this level during all the match. So it was my fault, and he did well. He did very well, but I didn't play my best tennis and for that reason I lose. I have to accept my defeat as I accepted my victories: with calm. I need to learn, and you learn more when you lose than when you win. This is not a tragedy, losing here in Paris. It had to happen one day, and this is an excellent season for me. Of course it's a bit sad, but I have to overcome this as quickly as possible."
So what will happen to the 2009 French Open?
With the king's sudden departure, we suspect the following could happen.
Soderling will crumble to pressure after this monumental win over the king of clay: watch how he will crash out to Russian Nikolay Davydenko in Tuesday's quarter final.
Nadal will swear off pink colour for life.
And Roger Federer will feel fired up to complete his career Slam and notch a Pete Sampras equaling 14 Grand Slam tally by notching his maiden Roland Garros title.