2007 Audi Cross Cabriolet Concept

Designed by the Audi's studio in Santa Monica, CA, the Cross Cabriolet quattro concept is distinctly American in its styling, with a jacked up ride height, elongated wheelbase and retractable soft-top. Audi released both the Cross Coupe and Cross Cabriolet to foretell the design direction the automaker plans to take the recently released mid-size SUV, Q5.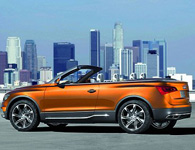 Short boot of the Cross Cabriolet Concept does depart from the usual elongated rear of past Audi cabriolets
Oddly, the profile of the Cross Cabriolet concept looks remarkably similar to our featured car this week, the Audi A3 Cabriolet. The short boot of the Cross Cabriolet Concept does depart from the usual elongated rear of past Audi cabriolets.
While both the presentation and styling of the Cross Cabriolet concept could challenge traditional Audi audience, some of the interior appointments piqued our curiosity. The MMI infotainment system combines traditional GPS functionality with Google Earth, to provide a real-time rendering of the world in which it's traveling.
To counter the wind noise associated with convertibles, Audi decided the best way to facilitate conversation within the cabin was to employ an intercom system that picks up the voices of the occupants and amplifies them through the Bang & Olufsen sound system.
2007 Audi TT Clubsport Quattro
Could Audi be mulling over a super-sporty open-air TT? Time will tell, as this is just a design study. Someone in Ingolstadt should take the brave pill and turn this into a production model.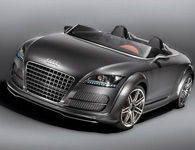 Barely-there windscreen...pillarless, wraparound, and wiper-free
Taking after the iconic Porsche Speedster, the stunning TT clubsport Quattro concept looks stunning with its slight windscreen and hefty bodyworks.
In front, the TT Clubsport Quattro is anything but subtle. The dominant shield grille is flanked by large intakes that are required to feed the 300-horsepower TFSI four-cylinder residing behind them. Like the flagship R8, the clubsport's four rings are moved to the hood.
Big RS4-style open-spoke wheels sit inside the bulging flared fenders giving a clear view of the orange-calipered ceramic disc brakes. At the rear, dual tips and a fully-exposed muffler poke through the bodywork, and when viewed from above, the clubsport takes on an hourglass shape that hints at the muscle it packs beneath its skin.
1997 Audi AL2 Open End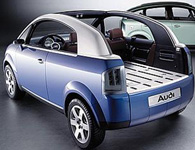 Hard to imagine having an Audi as a pickup

The 1997 Audi AL2 Open End was intended to be fun version of the Audi A1: with a raised height and semi-cabrio-pickup setup. Perhaps it has inspired the Kia Soulster concept shown at this year's Detroit Auto show.
Some of the Cross Cabriolet Concept's design bits does point to a this week's featured car, the new A3 Cabriolet. Here's wondering if future Audi cabriolets would carry some of the interesting elements found in these three concept cars.
Stay tuned for this week's featured car, the A3 Cabriolet.