An air of uncertainty surrounds the women's event at the 2009 French Open. Clay demon Justine Henin's shock retirement in 2008 has sent ripples through the women's field. No one has since filled the void as a constant dominant force on clay and with many of the would-be favourites going into the tournament struggling for form and fitness.

Willimses Vs Safina…

Perennial Grand Slam contender, world number two, Serena Williams has not won a single match on clay for over a year as she has been victory-less on all three of the clay court tournaments she contested in.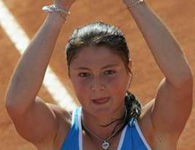 Dinara Safina: world number 1 but no Grand Slam tittles yet

A knee injury the tennis diva picked up at the finals of the Miami Sony Ericsson Open in April has cast a doubt over her chances on her least favourite surface in spite of her victory at Roland Garros back in 2002. We wouldn't put this injury past her weight gains that are clearly visible since her victory at the US Open 2008.
The flamboyant 10-time Grand Slam champion has always believed that she is the world's best female tennis player, regardless of what the computer rankings indicate. As Serena protested how she could lose her top ranking despite contesting in the past three Grand Slam finals and winning two along the way.
Such a statement has sparked some words of fury from the current world number one, Dinara Safina. The Russian is on a strong trail of clay court titles since the exchange of spats with the American: winning back-to-back clay tournaments in Rome and Madrid. On form, Safina certainly leads the pack as she trashed Anne Keothavong from Britain at 6-0, 6-0 in her first round match, earning herself a rare double bagel. The 2009 French Open will be Safina's best chance yet to break her Grand Slam duck.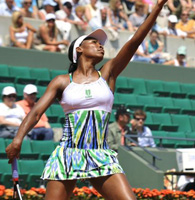 Venus Willams in an outfit designed by herself

Safina's potential semi-finals opponent could be Venus Williams, the less flashy of the two Williams sister. Venus has been on a mini renaissance since clinching her fifth Wimbledon last June: returning to top three for the first time since 2003. The owner of seven Grand Slam titles has never triumphed at the French Open and has never looked comfortable on red clay throughout her long career. Of note, the Williams sisters are seeded to meet in the finals: Venus will long to extract revenge on Serena for the defeat in 2002's final.
Last year's favour: Serbians
Ana Ivanovic (Serbia, world number 8)
Jelena Jakovic (Serbia, world number 5)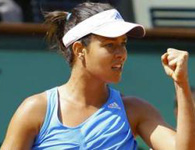 Defending champ Ana Ivanovic is in questionable form

2008's champion Ana Ivanovic looks like a shadow of her former self, as her form nosedives since clinching her maiden and only Grand Slam. In a seemingly inevitable failure to defend her title, chances are she will blame her troublesome knees over her dwindling game.
Unlike her compatriot, Jelena Jakovic has yet to taste Grand Slam victory. The attention seeking Serb tennis star is blaming her drastic dip in form on her new fitness regime. Apparently trading in flexibility for strength does no good for Jelena's tennis.
And the other Russians
Elena Dementiava (Russia, World number 4)
Svetlana Kuznetsova (Russia, World number 7)
Maria Sharapova (Russia, World number 102)
Similarly Dementieva has yet to win a Slam, having lost in the 2004 French and US Open finals, while Svetlana Kuznetsova has struggled to live up to her upset win in the 2004 US Open.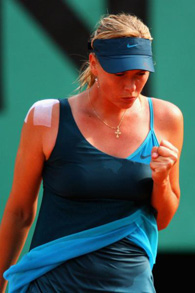 Maria's new accessory: bandage on right shoulder

While three-time Grand Slam champion, Maria Sharapova is on a comeback trail after been sidelined with a shoulder injury for almost 10 months before returning to action at last week's Warsaw Open.
"I don't have any expectations," she said after losing to Ukraine's Alona Bondarenko in the quarter-finals in Poland.
"I don't think this is the time in my career to have expectations."
The Russian superstar admitted at the 2007 French Open that she feels like a cow on ice whenever she plays on clay. Her re-emergence from the shoulder injury has given a much needed boost to women's tennis.
The tribulations of the sport's leading lights means the field for this year's tournament looks more open than ever.