In the world of men's professional tennis, for the last 10 months, there are only four players that were in serious contention for the Grand Slams and biggest titles on the ATP tour: Rafael Nadal, Roger Federer, Novak Djokovic and Andy Murray. They have leagues ahead of the rest of the field.

Roland Garros 2009-also known as the French Open, the second of the four Grand Slams of the year, will be held from the 24th May to 7th June. This is the only Grand Slam to be played on clay. The red clay of Roland Garros is much slower than the court surfaces found at the other three Grand Slam tournaments. World number 1, Rafael Nadal is the four-time defending champion as he seeks for his seventh majors title.

Sex bomb Rafael Nadal whose rise to the top of the world rankings has seen him transform from a dominant clay court force to a serious all-court contender. At the beginning of the 2009 season, we saw Nadal dropping the tank top and odd length pirate pants in favour of more "mature" apparel. We get to see less of his bulging biceps, but the new shorter shorts has made his "ass-ets" even more obvious.

The 22-year-old eye candy will start his bid for a record breaking fifth successive French Open title. A tournament which he has never lose a match since his debut as an 19-year-old in 2004. Amazingly, no one has even stretched Rafa to five sets yet . During the run-up clay court tournaments leading up to the French Open, Nadal's collection of Monte Carlo, Barcelona and Rome was impressive from the undisputed king of clay. With the exceptional and circumstantial defeat to arch-rival, world number two, Roger Federer in the finals of Madrid.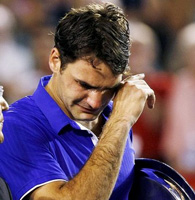 water works from the Swiss mastero after he lost a titanic final to Nadal at the Aus Open'09

Federer, a losing finalist to Nadal for the last three French Open, will be keen to avoid another emotional outburst should he lose yet another French Open final. Let's hope the Swiss mastero has recovered from his dramatic water works display after he lost the titanic final to Nadal at this year's Australia Open.
Federer appears to be buoyant about his chances at the only Grand Slam that has eluded him after his victory at the Madrid Masters over Nadal. To achieve a Pete Sampras record-equaling 14 Grand Slams at this French open would be quite a fantasy for the cry-man who only managed all of four games in the most lob-sided trashing final between the legendary Nadal-Federer rivalry.
In the unlikely event of the June 7 final not being a repeat of the last three, it would probably be due to world number three, Andy Murray and number four, Novak Djokovic.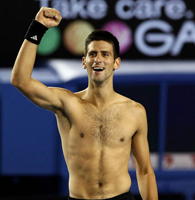 Novak wants Roger's No.2 ranking in 2009
Andy Murray who has displaced Djokovic at the number three world rankings is still seeking that first Grand Slam win and Roland Garros is sadly not his favourite hunting ground. The geeky Scotsman has reached his first clay court semi-finals at Monte Carlo, but his dismal opening loss at Rome and quater-finals showing at Madrid says a lot of his weakness on this slow surface. His first round trashing Juan Ignacio Chela yesterday does show some hope. Would Murray fully justify his seeding and make it to the semis for a Nadal showdown?
Perhaps a more promising performance would be from world number four Novak Djokovic, who is seeded to meet Roger Federer in the semis. The Serbian tennis-heartthrob recent upturn in form should be strong enough to trouble Federer. A Nadal-Djokovic could promise more entertainment and we are not only refering to the tennis on display.
Any dark horses?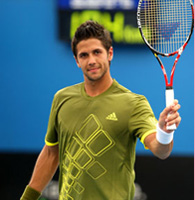 Fernando Verdasco is one of only two men on the professional tennis circuit with lengthy hair that seems styled with effort and plenty of products
Fernando Verdasco (Spain, world number 8)
Juan Martin del Porto (Argentina, world number 5)
These are the only two men on the professional tennis circuit with lengthy hair that seems styled with effort and plenty of products. Both should reach the quarters with ease and with some flare and gutso: potentially the semi-finals. Hard to see them progress beyond there though.
And for old time's sake:
Marat Safin (Russia, world number 22)
Llyeton Hewitt (Australia, world number 48)
Fabrice Santoro (France, world number 41)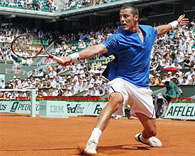 How many rackets will Marat Safin break at the 2009 Roland Garros?

Two-time Grand Slam winner, Marat Safin is calling it quits at the end of the 2009 season at the grand old age of 29. The Russian hunk will be sorely missed for his on-court outburst and his smashing good looks. His first round victory yesterday shows decent form and was his only second clay court victory this season.
Another two-time Grand Slam winner, Llyeton Hewitt is strolling towards retirement as he continues his battle against injuries and poor form. The Australian former world number one has managed to battle his way into the second round of the French Open with a titanic 5-set 6-7(2) 6-7(4) 7-6 (4) 6-4 6-3 over lofty Croatian serve monster Ivo Karlovic: showing the trademark grit and determination of Llyeton Hewitt.
Lastly, the "magician" Fabrice Santoro is making his final appearance at his home Grand Slam at 37 years old. The former juniors World number 1 has thrilled us over two decades with his crafty play. Santoro will certainly be missed for his ability to frustrate the typically more powerful opponents.