2009 sees Volkswagen stepping back into the coupe segment with the new Scirocco since the introduction of the Corrado in 1988. A mystery since Volkswagen coupes had always been well-received since the 1955 Volkswagen Karmann Chia. Fridae takes you down memory lane of the coupes from the manufacturer of the "people's car".

Volkswagen Karmann Ghia (1955 to 1974)

The Karmann Ghia debuted at the October 1953 Paris Auto Show as a styling concept created for Ghia by Luigi Segre. The Volkswagen Karmann Ghia is the German manufacturer's first attempt to produce a stylish and elegant car.

In an effort to boast its image, Volkswagen contracted with German coachbuilder Karmann to build this car. This design by Ghia was originally intended for Chrysler or Studebaker. While it utilizes a modified Beetle architecture and had limited power (for a sports car), its stylish looks and reasonable price made sales strong.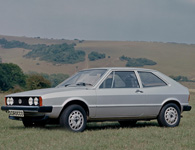 Volkswagen Scirocco Mark 1 (1974)

Volkswagen Scirocco Mk 1 (1974 to 1981)
Penned by Giorgetto Giugiaro, the 1974 Volkswagen Scirocco Mark 1 was a tremendous sales success with over half a million units being sold worldwide. Construction of the car was contracted out by Volkswagen to Karmann and built at the Onsabruck factory in Germany, the same company responsible for the VW Karmann Ghia coupe which the Scirocco replaced in the Volkswagen line up.
Despite running on the architecture of the Volkswagen Golf Mark1, the Scirocco was lower and sleeker: a firmer suspension setup gave the Scirocco a sportier ride.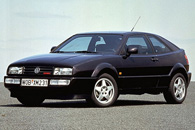 Volkswagen Corrado (1988)

Volkswagen Corrado (1988 to 1995)
Conceived as a successor to the successful Scirocco, the Volkswagen Corrado was a widely acclaimed as an excellent driving tool, but its dismal performance in the showrooms prompted the then-struggling German manufacturer to withdraw from the coupe segment till recently.
Perceived as too expensive, it reached a production total of just 97,521 vehicles. All Corrados featured an innovative rear spoiler which automatically raised when the vehicle reached a speed of 90 km/h.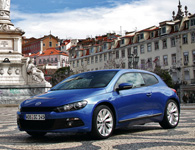 This Friday's featured car, Volkswagen Scirocco 2.0 TSI (Not anymore!)

The mid-90's saw most non-premium car manufacturers deserting the coupe segment, as seemingly only Mercedes Benz and BMWs are holding steady in the coupe sector. The rise in the popularity of SUVs was partly responsible for the death of the mass-brand coupe.
The revival of Volkswagen's fortunes in fun to drive cars started with the Mark V Golf GTi in 2005. Resurrecting the Scirocco nameplate is a step in the right direction, as Fridae Autoclub finds out this Friday
(Not anymore, will advise when Linus gets the green light)
.