Gay pop star George Michael and his boyfriend-of-10-years, Kenny Goss, have put their wedding plans on hold, according to the UK tabloid The Daily Mail. The British star was recently caught after an alleged sexual encounter in a London park with a stranger, who was described by the paper as a 58-year-old "pot-bellied, jobless van driver."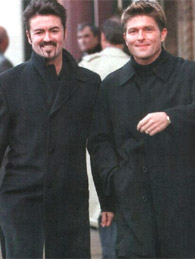 Former Wham member George Michael and partner Kenny Goss (right).
The News of the World
, which published the photographs, claimed that they caught Michael returning to his car after the encounter at London's Hampstead Heath park, a popular cruising venue for gay men. However, the photographs published in its Sunday edition simply show Michael walking to his car at the park.
Some three months ago, Michael who is believed to be worth £50 million (US$92 million), told a British television chat show host about his plans to 'wed' Goss. "I think that we will formalise it definitely from a legal point of view.
"It's absolutely essential that we have the same safeguards that straight couples do. But I want more than a 50 per cent chance of success. I don't want to emulate that.
"We'll probably do it on our 10th anniversary. We'll probably do the formal legal thing then the party."
The Daily Mail
reported that the wedding might now be off, quoting a source close to Michael: "They are reassessing their relationship at the moment so there are no immediate plans. Things are very much up in the air. They do not feel that the wedding is relevant now."
The 43-year-old has insisted in the past that he and Goss, 48, have an open relationship, saying: "Gay relationships are a bit different. I'm sure we'll be allowed to roam if we want to. But we love each other dearly."
Michael was forced to come out in 1998 after Californian police arrested him for lewd conduct in a public restroom.
In Britain, sex in public is illegal if it is likely to be witnessed by a third party, however, a police spokesman revealed they are not planning on investigating Michael as he was not caught by an officer and no complaint had been made.
Michael is scheduled to embark on a 47-date comeback tour this September, his first European tour in 15 years.