The first if its kind in Singapore, Camp Comedy 2006 promises to be a laugh a minute extravaganza that takes apart and reinvents Asian stand-up comedy, bringing both local and international heavyweights all under one roof!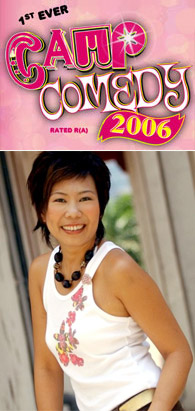 Camp Comedy is the brainchild of Irene Ang, one of Singapore's funniest and most famous personalities and founder of FLY Entertainment. More details on the next page about Irene Ang, Kumar, Sebastian Tan, Lounge-zilla and Rick Lau.
Presented by Fly Entertainment, the inaugural event boasts a double bill lineup of both international and local comedians with a program bursting with the anarchic, the ridiculous, the surreal, the smart-arsed... and the just plain silly.
The brainchild of one of Singapore's funniest and most famous personalities, Irene Ang, Camp Comedy showcases the best of Asian stand-up comedy from all over the world, including our very own homegrown best.
With her firm belief that Singapore's raucous yet under-rated comedy scene is a fertile incubator for aspiring and famous comics alike, Irene aims to put Camp Comedy on the international laughing trail and bring the best of the best right to your doorstep!
For four sidesplitting nights, both comedy aficionados and regular "heartlanders" looking for a good laugh will enjoy an unprecedented opportunity to lark about with the likes of the irrepressible Kumar (Singapore), everyone's favourite Broadway Beng Sebastian Tan (Singapore), the fiercely clever, savagely funny award winning Lounge-zilla (USA/Philippines) and tour de force Rick Lau (Australia/HongKong)!
Date: May 18 - 21
Venue: Zouk, 17 Jiak Kim Street
Executive Producer: Irene Ang
Tickets: Tickets are priced at $42 NETT (inclusive of one drink). Early bird discount of $36 NETT, offer until May 7.
Buy online on Fridae
Show Times - All Nights hosted by Irene Ang
May 18, Thu, 8pm
Broadway Beng + Lounge-zilla (USA/Philippines)
May 19, Fri, 8pm
Kumar + Rick Lau (Australia/HongKong)
May 20, Sat, 8pm
Kumar + Lounge-zilla (USA/Philippines)
May 21, Sun, 9pm
Broadway Beng + Rick Lau (Australia/HongKong)
Booking details
Fly Entertainment Hotline: 6224 3188
Email: camp@fly.com.sg
Outlets
Fly Entertainment: 133 Neil Road (11am to 7pm Mon to Fri)
Club 95: 95 Club Street (6pm to 2am Sundays closed)
Zouk Ticketing Office: 17 Jiak Kim Street (8pm to 3am Sundays closed)
---

From the top: Kumar, Broadway Beng Sebastian Tan, Lounge-zilla and Rick Lau.
KUMAR
(Singapore)
Singapore's undisputed QUEEN needs no introduction, especially when you're renowned for being one of Singapore's best and most loved comedians. From igniting the fire of both locals and tourists alike during Boom Boom Room heydays to spreading heaps of Gold Dust in true glamorous diva style currently, Kumar is undoubtedly the improvisational genius, witty standup comic, and flamboyant homegrown drag queen that everyone knows and loves. A uniquely Singaporean brand of humor, style and glamour, expect Kumar to give you the most dazzling, vivacious and hilarious performance in town!
Sebastian Tan
(Broadway Beng)
Arguably Singapore's most multifaceted Ah Beng, Sebastian is known throughout TV and Theatre Land as the consummate performer blessed with an award winning melt-like-butter voice. 2004 marked a watershed in this versatile actor's career when he did what many Singaporeans have dreamt about but so few have achieved. Successfully landing a once-in-a-lifetime role in the UK production of
Miss Saigon
, he played the title character Kim's fiance, "Thuy" and understudied one of the leading characters, The Engineer. This Singapore Ah Beng kept his UK audiences riveted to their seats and played to rave reviews. Sebastian Tan in Broadway Beng is a definite must see! He's living proof that you CAN take the Chinese Helicopter out of Miss Saigon.
LOUNGE-ZILLA
(USA / Philippines)
LOUNGE-ZILLA!' is the hilarious, award-winning sketch send-up of cabaret and lounge acts that you must see! The show features laugh-out-loud songs designed to offend just about everyone! This critically-acclaimed, internationally-touring act features Fiely A. Matias, the self-proclaimed diva of bad cabaret, rifles through his off-beat songbook of original melodies about fetishes, threesomes, stalking, bizarre sibling rivalries, vengeance, sex change operations and fag hags.
Accompanied by Dennis T. Giacino, the comedy composer who writes the songs that make the whole world cringe, Matias warbles such politically-incorrect chart-toppers as Shy One Chromosome, I'm A Teenage Mutant Boy Scout From The Nuclear Fallout Zone, Squaw Girl, The Man Who Makes My Stomach Turn,I'll Be Here For You (The Stalking Song), Ode To A Fag Hag, Go, Get Out, I'm Done and Wet Sand In My Suit! '
RICK LAU
(Australia/ HongKong)
Performing on stage in front of a full house is a far cry from the stolid world of computer programming, but this is exactly the career trajectory taken by tech head-cum-cabaret performer, Rick Lau. It was while studying at Sydney's National Institute of Dramatic Art that Rick met two Australian theatre greats, Judi Connelli and Toni Lamond. Their encouragement lead to Rick performing in the buff for his successful run in Naked Boys Singing! He also did a turn as special guest at the 2002 Sydney Cabaret Convention, and has since appeared in many other stage productions. Comedy torch song parodies, ridiculous costumes and inspired dance numbers - this is a sure-fire audience fave!
Irene Ang
- Executive Producer/ Host
One of Singapore's most famous personalities and a household stalwart in the entertainment industry, Irene Ang made her first impression on television audiences as Rosie Phua in Singapore's most popular sitcom
Phua Chu Kang Pte Ltd
and went on to win the Best Comedy Actress Award at the Asian Television Awards 2002 for that very role. She is also the powerhouse force that runs Singapore's first and largest Artiste Management Agency, FLY Entertainment. Widely known as one of Singapore's funniest women, this multi-tasking wearer of many hats is also a Spirit of Enterprise Award winner and one of Her World's 50 most powerful women.